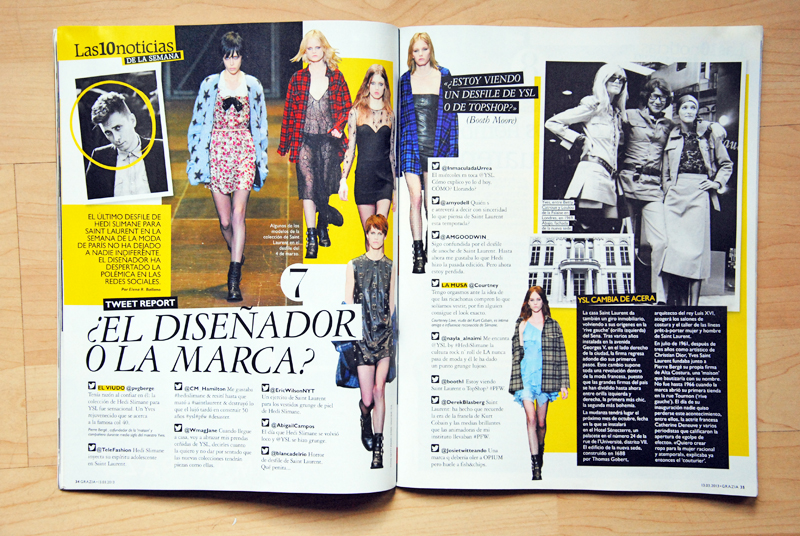 C'est un article paru la semaine dernière dans le Grazia Espagnol qui m'a fait y repenser. Ils y ont regroupé les tweets après le défilé de Pierre Bergé, des rédactrices, muses etc…
J'ai vu que je n'étais pas la seule à avoir été interpelée par cette collection que je n'ai pas aimée.

Hedi Slimane présentait son second défilé pour Saint Laurent. Je m'attendais à voir une belle collection, dans la lignée de la première. Le fait d'avoir déménagé le Studio sous le soleil de Los Angeles ne pouvait être que bénéfique à la créativité gaie. Et là, patatra! Des silhouettes androgynes, le maquillage qui coule, un look de teenager grunge dépressive. Le tableau n'est pas folichon et la collection ressemble plus à du Topshop qu'à du Saint Laurent.

Moi, la question que je me pose c'est: est-ce que Pierre Bergé aurait autant aimé la collection si ça n'avait pas été Hedi Slimane… Je suis sure que non!


It's an article from last week in Spanish Grazia who made me rethink about it. They put together some tweets from Pierre Bergé, fashion editors, muses, etc…
I saw I was not the only one to call my mind by this collection that I didn't like.

Hedi Slimane presented his second show for Saint Laurent. I was expecting to see a nice collection, as the first one. The fact that the Studio moved to sunny Los Angeles is supposed to be good for joyfull creativity. And finally, not at all! Androgynous silhouettes, make-up running out, a grunge depressive teenager look. The idea is not great and the collection make me think about Topshop more than Saint Laurent.

Me, the question I'm wondering is : Is Pierre Bergé will have loved the collection if it wasn't Hedi Slimane… I'm sure not!