Aujourd'hui, pour continuer et bientôt clore le sujet des tendances sur les collections Croisière 2014, je vous propose 3 tendances en 1.
Vous avez peut-être déjà deviné en regardant les photos dessous?
1ere tendance mode: c'est ce que j'appelle le "3 sets" ou le trois pièces. Un peu comme le costume trois pièces sauf que ici, les tailleurs sont remplacés par un ensemble décontracté de veste, trench aérien, blouse et pantalon large. Il faut que la dégaine soit cool (tout en restant chic, bien sur!).
2eme tendance: la mode vue en monochrome. Ici, pas besoin d'assortir sa tenue avec plusieurs couleurs, une seule couleur fait le look! Ça devient plus simple de s'habiller le matin. Bon, par contre on bannit le noir, ben, oui, ce serait trop facile sinon!
3eme tendance: le pantalon large.
Today to continue and conclude soon trending topic on Resort collections 2014. I suggest three trends in one.
You may already have guessed by looking at the pictures below?
First fashion trend: this is what I call the "three sets" or three pieces. A bit like the suit except that here, the tailors are replaced by a set of casual jacket, trench airy, blouse and large pants. The quickdraw needs to be cool (but still chic, of course).
2nd trend: fashion is in monochrome. Here, no need to match your ​​outfit with several colors, one color makes the look! It becomes easier to get dressed in the morning. Well, banish the dark, yes, that would be too easy otherwise!
3rd trend: the large pants.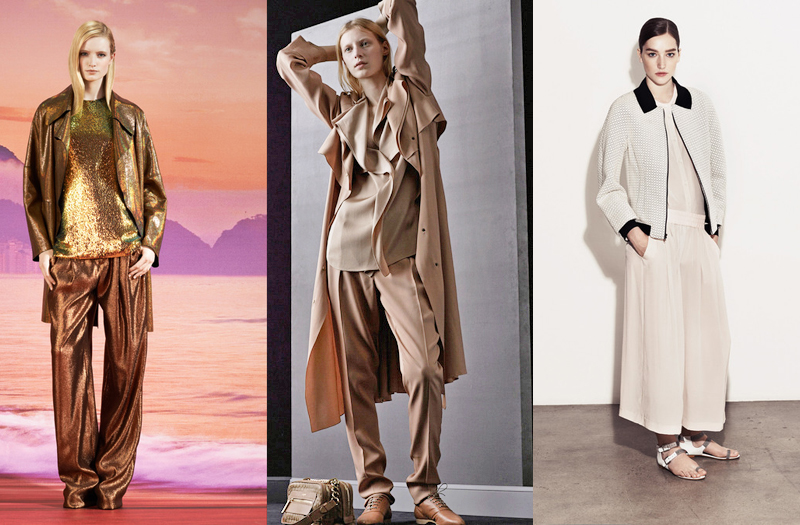 Gucci – Lanvin – Jason Wu Resort 2014
Photos: Style.com