La semaine dernière, j'ai ouvert un compte

Instagram

. En quelques jours, c'est devenu mon nouveau joujou génialissime!
Je dis génialissime car comme cette application s'utilise avec votre téléphone et que vous prenez des photos avec ce dernier, je dirai que les photos sont plus spontanées que lorsque l'on prend une photo avec un reflex, qui est plus gros, plus lourd, plus voyant et moins rapide du fait d'avoir des réglages à faire.
Pour ma part, je trouve que les deux se complètent bien.
Si vous n'êtes pas encore inscrit ou abonné, voici un florilège des photos
beaauuuparis
sur
Instagram que vous avez le plus aimé.
Last week, I opened an
Instagram
account. Within days, it became my new toy awesomeness!
I say
awesomeness
because as you use this application with your phone and taking pictures with it, I will say that the photos are more spontaneous than when taking a picture with a reflex, which is bigger, heavier and slower from having to make adjustments.
For my part, I think the two complement each other well.
If you are not registered or subscriber, here is a selection of pictures on Instagram
beaauuuparis
you liked most.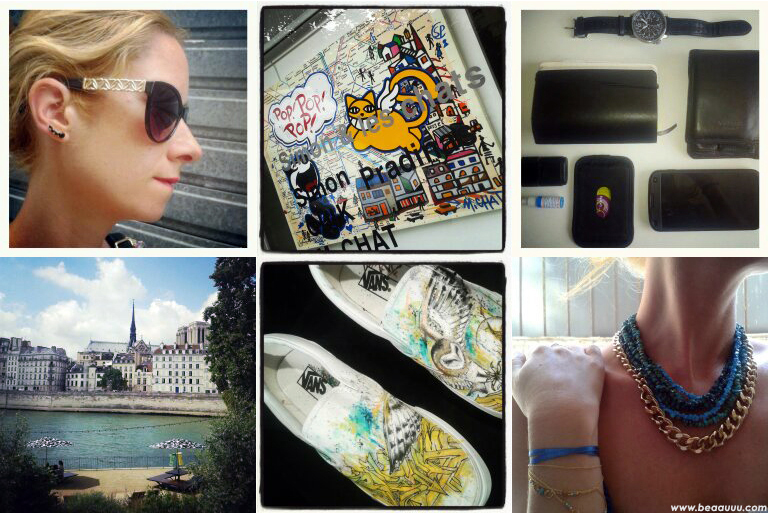 3) L'indispensable d'un homme en voyage / Essential for a man travelling
4) Paris Plage et Notre-Dame / Paris Beach and Notre-Dame Church
5) Vans customisées par Seth Shelman / Vans custom by Seth Shelman
6) Bijoux du jour / Jewels of the day