Le pull sera une des fortes tendances pour cet Hiver.
Je vous ai déjà parlé des pulls en angora qui nous réchaufferont cet hiver ici, cette semaine j'ai envie de parler des pulls XXL.
Qui n'a jamais emprunté un pull à son chéri le dimanche, ou porté un vieux pull déformé à la maison, c'est vrai, même déformé, il reste chaud et on est à l'aise.
L'idée dans ce post, sera de porter son pull soit en version robe , s'il est très long ou avec une jupe. Courte ou longe peu importe, à condition de porter des talons haut si vous avez une préférence pour la jupe longue.
En photo dessous de gauche à droite: Robe pull Jean-Paul Gaultier, Pull Chanel, pull oversize The Row.
The sweater is one of the strongest trends for this winter. I've already talked about angora sweaters that we warm up this winter here, this week I want to talk about XXL sweaters. Who has never borrowed a sweater to his boyfriend Sunday or carried an old sweater or deformed at home, it is true, even distorted, it stays warm and is comfortable.

The idea in this post, will be wearing your sweater as a dress if it is very long or with a skirt underneath. Short skirts or long it doesn't matter, but if you decide to go for a long skirt, you will need to accessorized with high heels. 
Photos from left to right: dress sweater Jean-Paul Gaultier, Chanel sweater, oversized sweater The Row.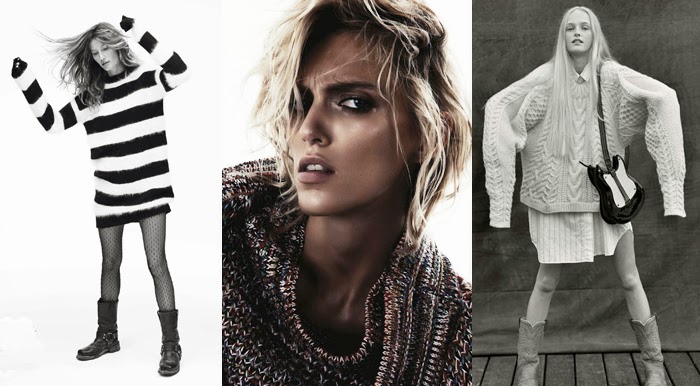 Gisele Bündchen By Mert & Marcus For Vogue Paris September 2013 – Anja Rubik By Claudia Knoepfel And Stefan Indlekofer For Vogue Germany September 2013 – VOGUE UK OCTOBER 2013 Jean Campbell by Bruce Weber