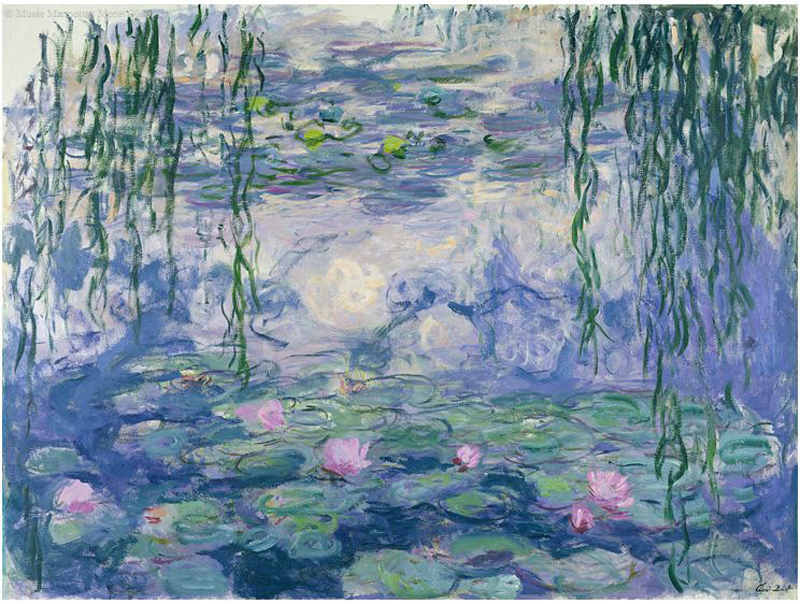 Claude Monet 1840-1926, Les Nympheas ©Musée Marmottan, Paris
C'est une affiche dans le métro parisien représentant un tableau des Nymphéas de Claude Monet qui m'a donné envie d'aller faire un tour au Musée Marmottant Monet.
A priori, je pensais que c'était une exposition éphémère sur Claude Monet et ses fameux "Nymphéas" mais durant la visite j'ai réalisé que c'est en fait une exposition permanente regroupant la plus vaste collection d'œuvres de Claude Monet.
On retrouve donc Impression, Soleil levant, Promenade près d'Argenteuil… et les Nymphéas.
Et ce sont surtout ces derniers qui m'ont le plus touchés.
En effet, jamais je n'avais vu autant de peintures des Nymphéas (peut-être une vingtaine) présentées ensemble dans une pièce.
C'est très impressionnant et beau car hormis la grande taille des tableaux, on découvre les mille et une visions de Claude Monet à travers sa palette de couleurs tout droit sorti d'un doux rêve.
This is a poster in the Paris metro representing an array of Nympheas by Claude Monet which tempted me to go for a walk in Marmottan Monet Museum.
At first, I thought it was a temporary exhibition on Claude Monet and his famous "Water Lilies"  but I quickly realized that this is actually a permanent exhibition of the largest collection of works by Claude Monet.
We thus find Impression, Sunrise, Promenade at Argenteuil … and Les Nympheas  (Lilies).
And it is mostly those last ones that touched me the most.
In fact, I had never seen so many paintings of Nympheas (perhaps twenty) presented together in a room.
It's very impressive and beautiful because apart from the large size of tables, we discover a thousand visions of Nympheas thought Claude Monet eyes and color palette straight out of a sweet dream.
Claude Monet 1840-1926, Nympheas harmonie en bleu ©Musée Marmottan, Paris