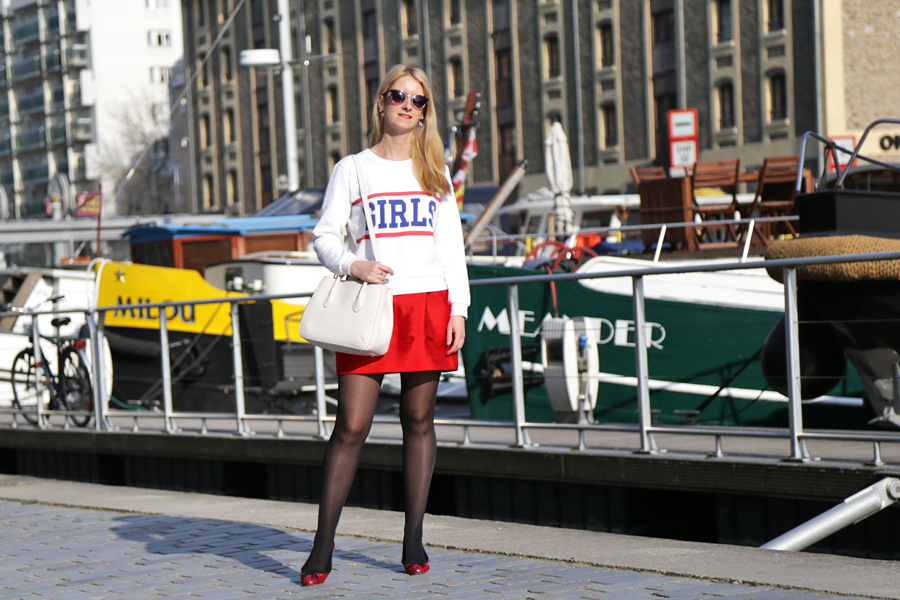 Quel beau temps! Faites que cela reste comme ça jusqu'à cet été! J'ai déjà commencé à prendre Oenobiol solaire et le jus de carotte à gogo tous les matins, histoire de prendre des couleurs tout en marchant dans Paris. C'est peut-être mon coté surfer girl qui veut ça…
Bref, en attendant le retour au source (Biarritz, nous voilà, J-10!), j'ai profité du beau soleil Parisien et du bassin de la Villette pour illustrer ce petit look girly qui m'évoque un peu le look des pom pom girls américaines.
Le sweat « Girls » me rappelle les séries américaines comme « Sauvé par le Gong » (d'ailleurs à ce propos, cette vidéo tournée récemment avec la plupart des acteurs est hilarante et géniale!!!) que je porte avec cette jupe rouge, déjà vu ici, mon sac blanc Zara et mes petites ballerines en python rouge.
What a beautiful weather! Hope it stays like that until this summer! I have already begun to take Oenobiol solar pills and carrot juice every morning, just to have colors while walking in Paris. This is perhaps my surfer girl side who wants that …
Well, until the return to the source (Biarritz, here we are, J-10!), I took advantage of the beautiful Parisian sun and La Villette to illustrate this little girly look that reminds me a bit the look of American's pom pom girls.
The sweat « Girls » remember me the American series like « Saved by the Bell » (oh, by the way, this video recently filmed with most of the actors is hilarious and awesome !!!) I wear with this red skirt, seen here, my white Zara bag and my little ballerina in red python.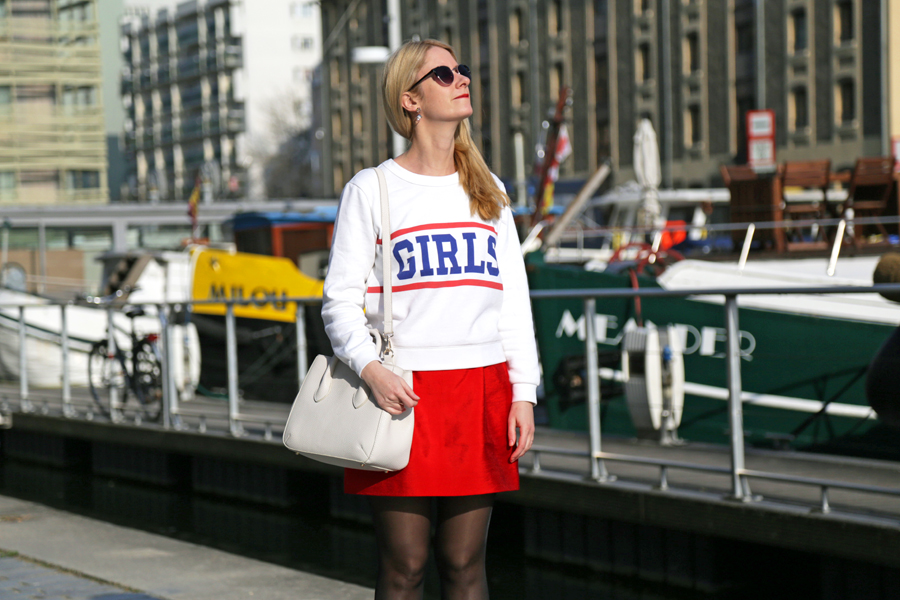 Photos: Franca

Sweat: Claudie Pierlot  –  Jupe/Skirt: H&M (actuellement en boutique) –  Sac/Bag: Zara  –  Ballerines/Ballerina: New Look (autre coloris, ici) –  Lunettes de soleil/Sunglasses: vintage