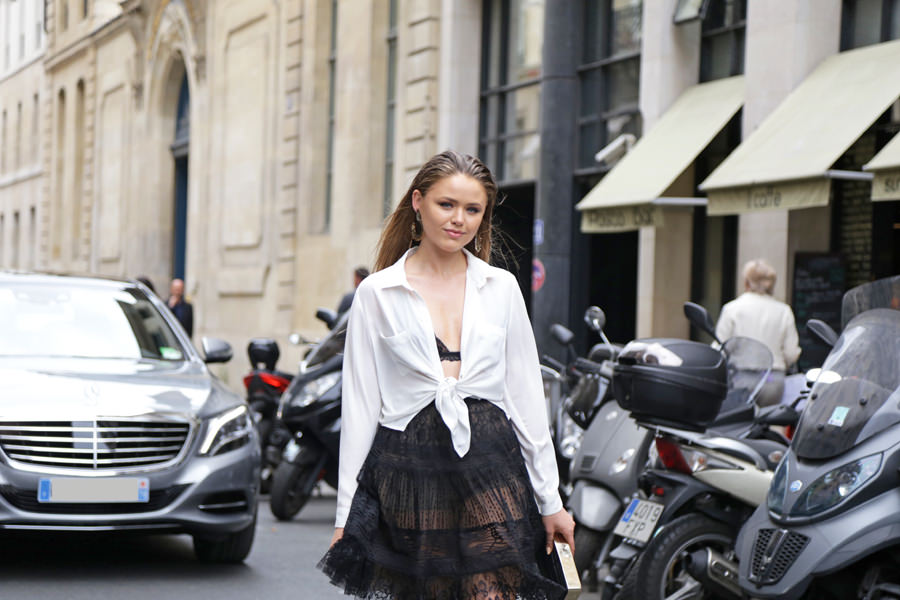 J'adore les « Fashion Week Parisienne »! D'une part parce que cela me permet de revoir mes copains et copines photographes Street Style mais aussi pour l'ambiance et les looks intéressants.
Paris devient le centre névralgique de la mode à travers le monde. Je n'apprends rien à personne et cela peut paraître très cliché de dire ça mais c'est tellement vrai! Il suffit de regarder les nationalités présentes parmi les invités, les mannequins et photographes: Etats-Unis, Russie, Chine, Brésil, Italie, Corée…
Cette fois-ci, nous voici aux Défilés Haute-Couture Hiver 2015. Je me trouve à la sortie des défilés Chanel et Elie Saab.
C'est la cohue! Il y tellement de monde qu'il devient difficile de faire des photos sans avoir quelqu'un derrière. Damn it!
Les policiers font la circulation pendant que le flot de berlines dépose ou reprend les invités. Les jeunes fans crient, sautillent et font des selfies avec leurs acteurs, chanteurs et mannequins stars. Les passants et touristes s'interrogent (et nous interrogent) sur tout ce tohu bohu. Certains sont agacés pendant que d'autres sont heureux de se retrouver par hasard au milieu de ce spectacle somme toute surréaliste. On sent l'émerveillement des touristes féminines « Ah ça, c'est Paris! » disent certaines avec leur joli accent.
De notre côté, nous les photographes StreetStyle (certains sont photographes professionnels), on est aux aguets, on scrute la 'it' girl, le look ou le détail intéressant. On a les yeux partout! Une 'it' girl arrive au loin!? (Le but est qu'elle soit vue et photographiée le plus possible, donc leur voiture les déposent une centaine de mètres avant l'entrée du défilé). On court pour la photographier (ou pas!) et avoir ainsi un maximum de photos que l'on retrouvera ensuite dans les magazines, la presse web et les blogs du monde entier.
La boucle est bouclée.
Ah inspiration, quand tu nous tiens!!!
---
I love Paris Fashion Week! On one hand because it allows me to see my pals Street Style photographers  but also for the atmosphere and interesting looks.
Paris becomes the nerve center of fashion worldwide. I'm not telling anyone anything new and it sounds very cliché to say that but it's so true! Just look at the nationalities present among the guests, models and photographers: United-State, Russia, China, Brazil, Italy, Korea …
This time, we are at the Haute Couture Fashion Show Winter 2015. I find myself at the exit of Chanel and Elie Saab shows.
It's the rush! There are so many people that it becomes difficult to take pictures without anyone behind. Damn it!
The police are flowing the traffic while streams of sedans drop off or take back the guests.. Young fans shout, bounce and make selfies with their favorites actors, singers and models. Passersby and tourists are wondering (and wonder us) on all hustle and bustle. Some are annoyed while others are happy to be by chance in the middle of the show altogether surreal. We feel the delight of female tourists « Oh that's Paris! « say some with their pretty accent.
On our side, we StreetStyle photographers (even if I'm not considering myself as a « real » StreetStyle photographer), we are alert, we scrutinize the 'it' girl, the look or interesting detail. We have eyes everywhere! An 'it' girl comes off !? (The goal is it to be seen and photographed as much as possible, so they lay down their car a hundred meters before the entrance to the show). We run to photograph (or not!) and have a maximum of pictures which were then end up in worldwide magazines, newspapers and blogs.
The circle is completed.
Ah inspiration, when you hold us !!!
Details of a Chanel Haute-Couture top and skirt.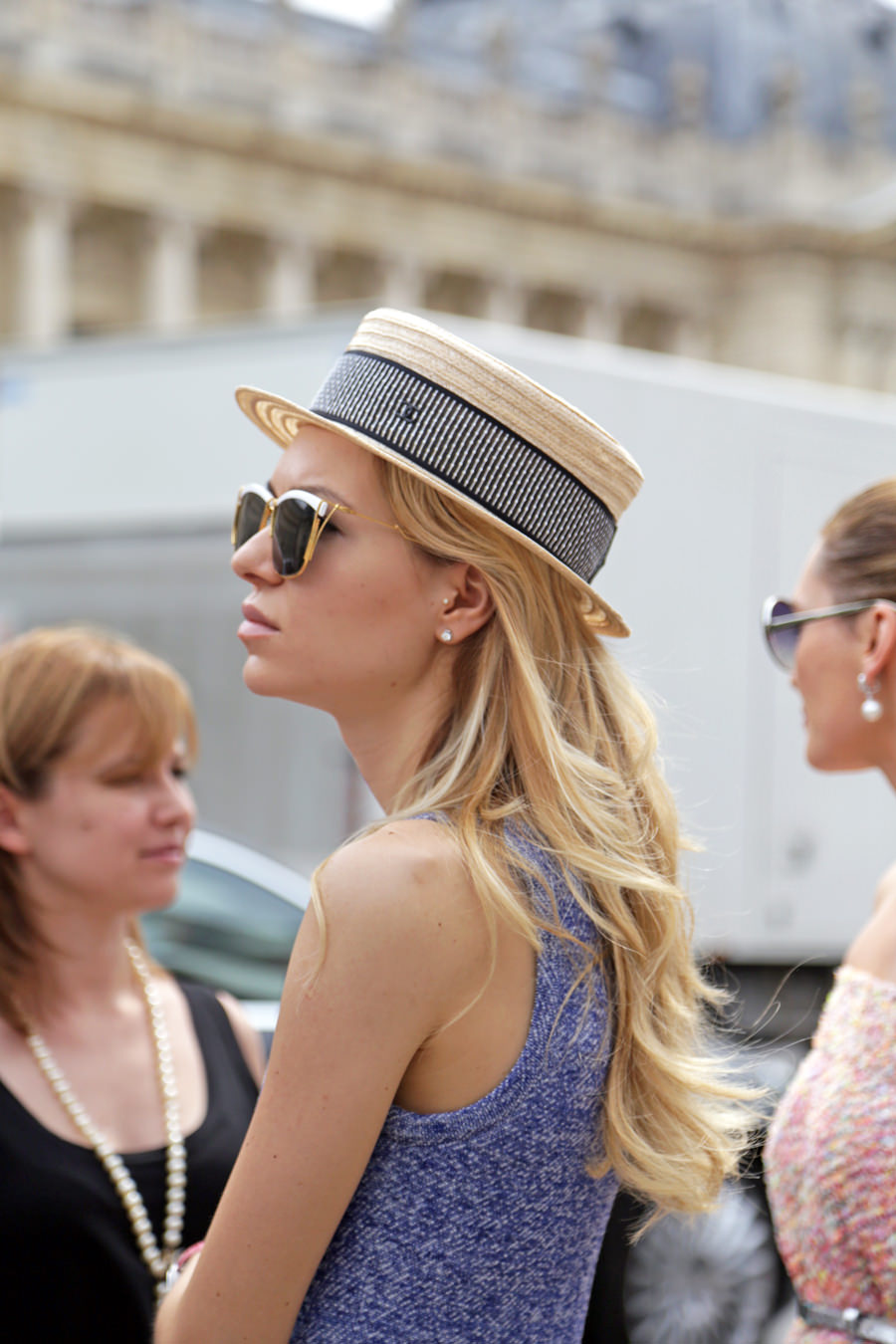 A lovely unknown woman with a Chanel Canotier Hat.
Nadja Bender taking selfie with a fan after Chanel show.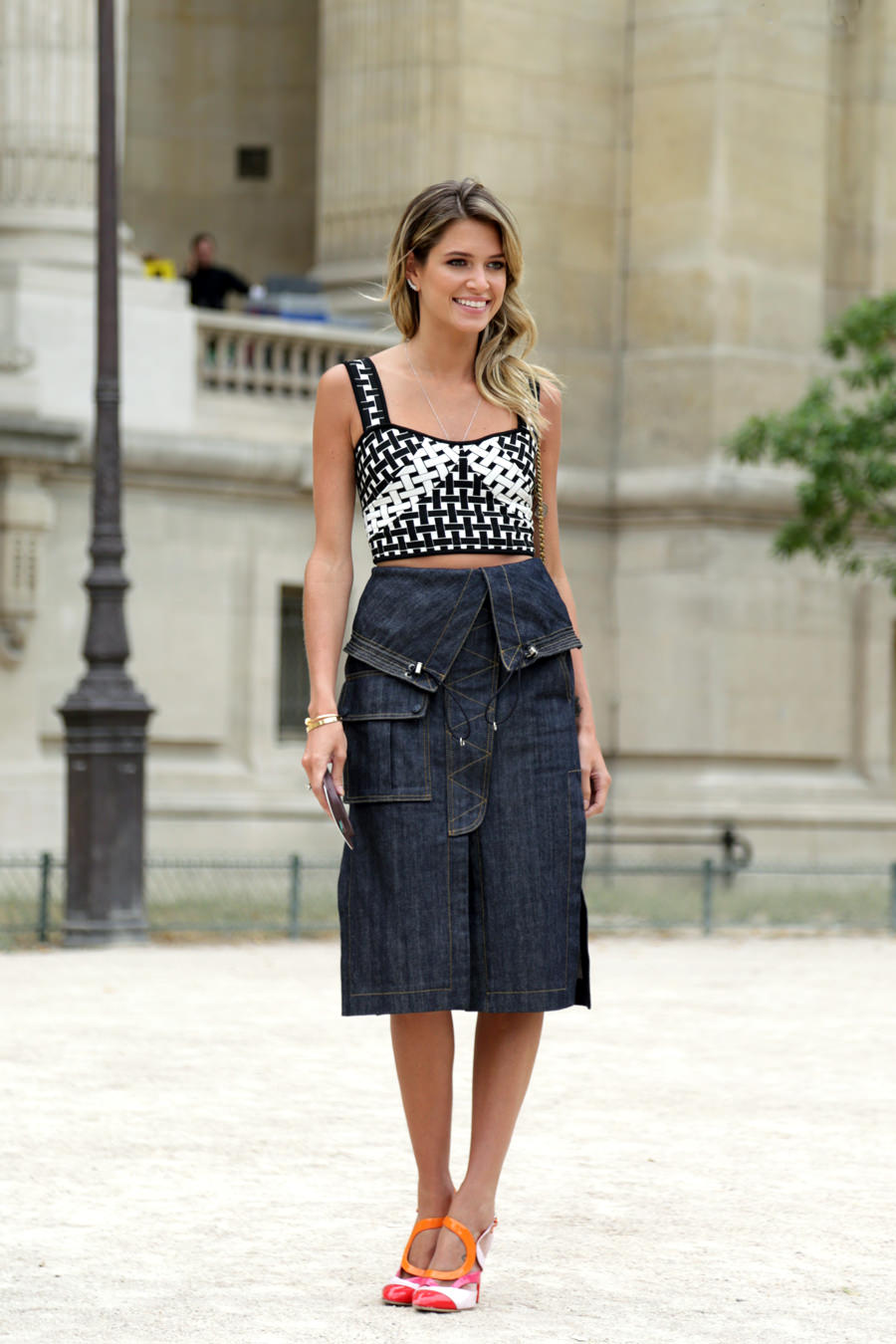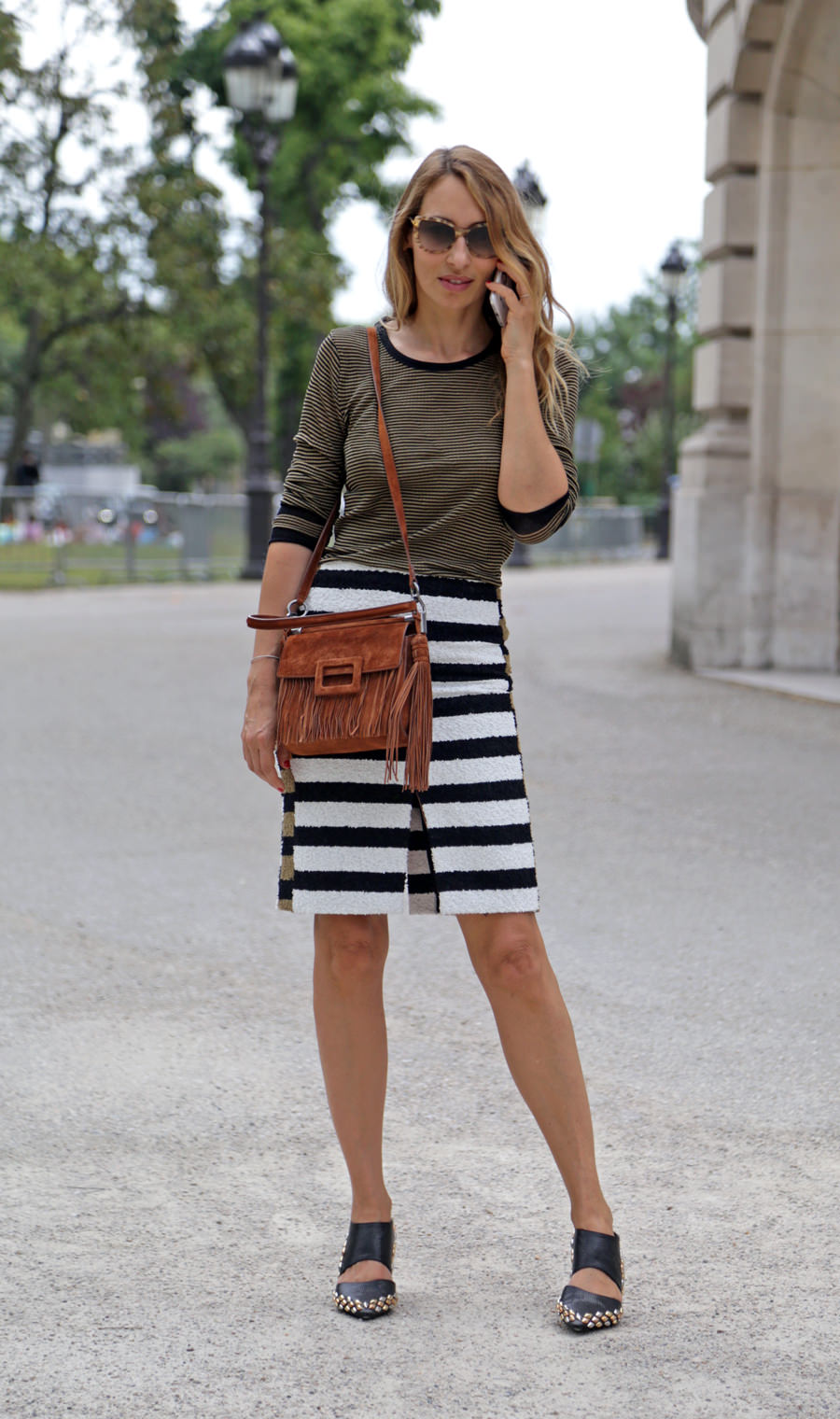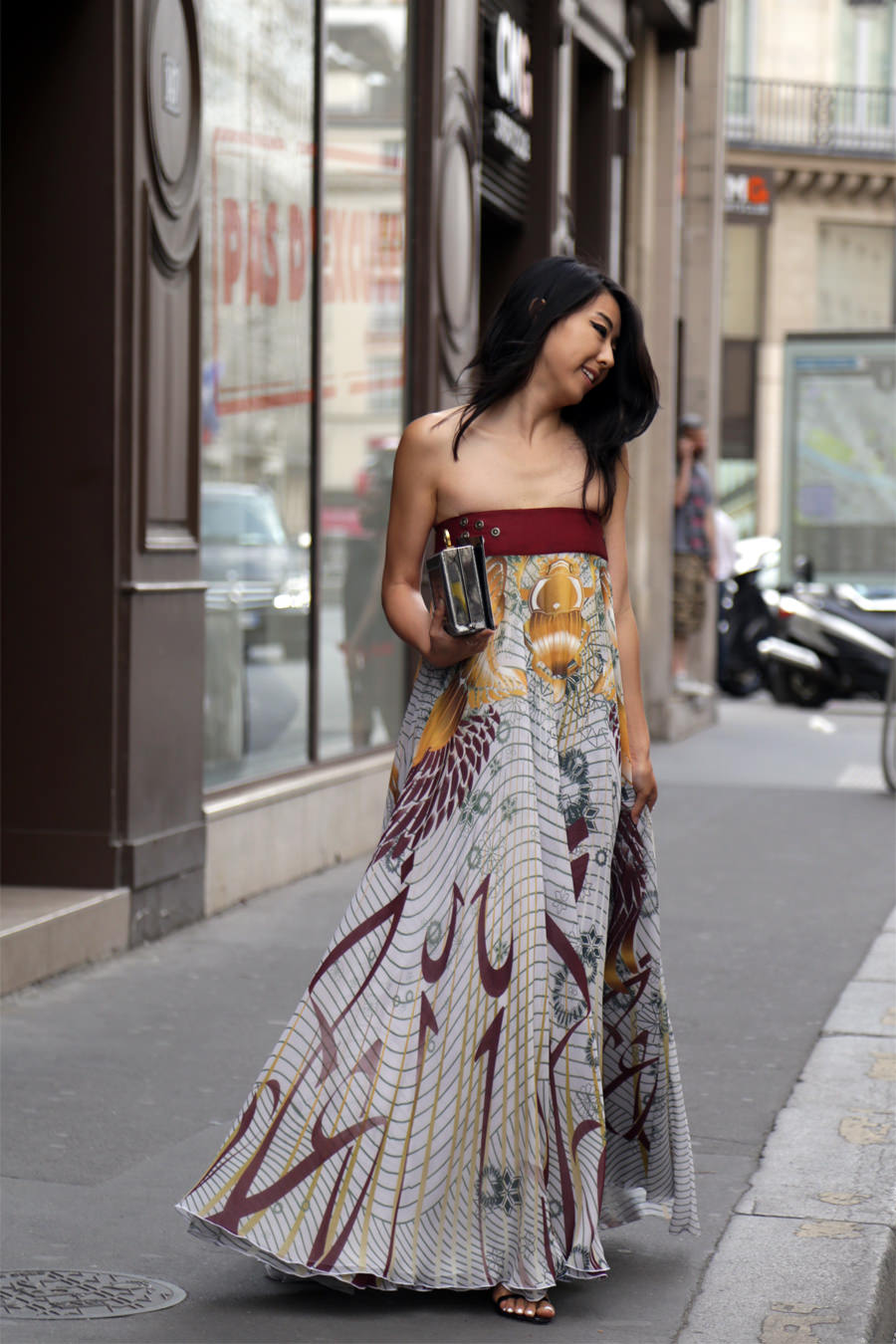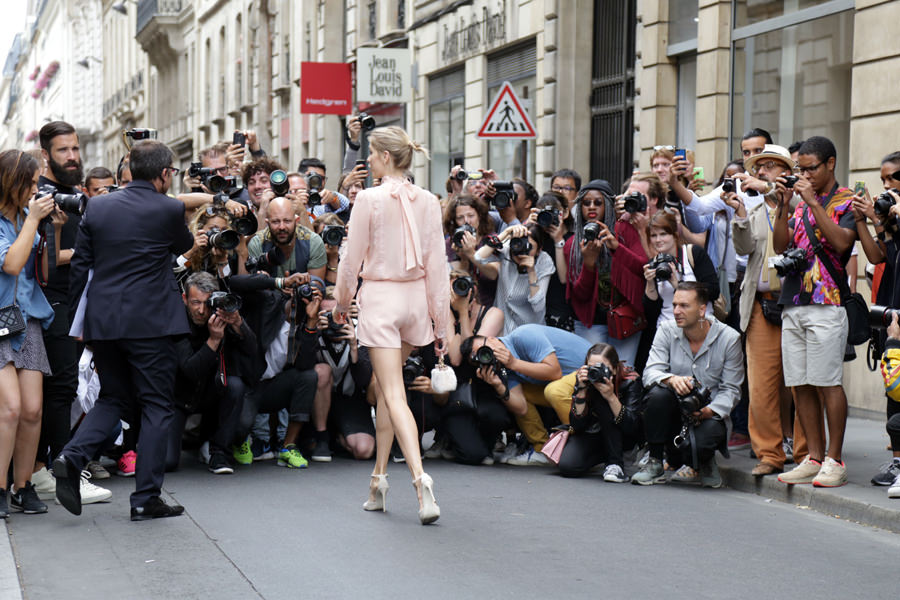 A lovely unknown woman wearing this yellow Chloé dress, best seller of this summer.
Photos: by me.