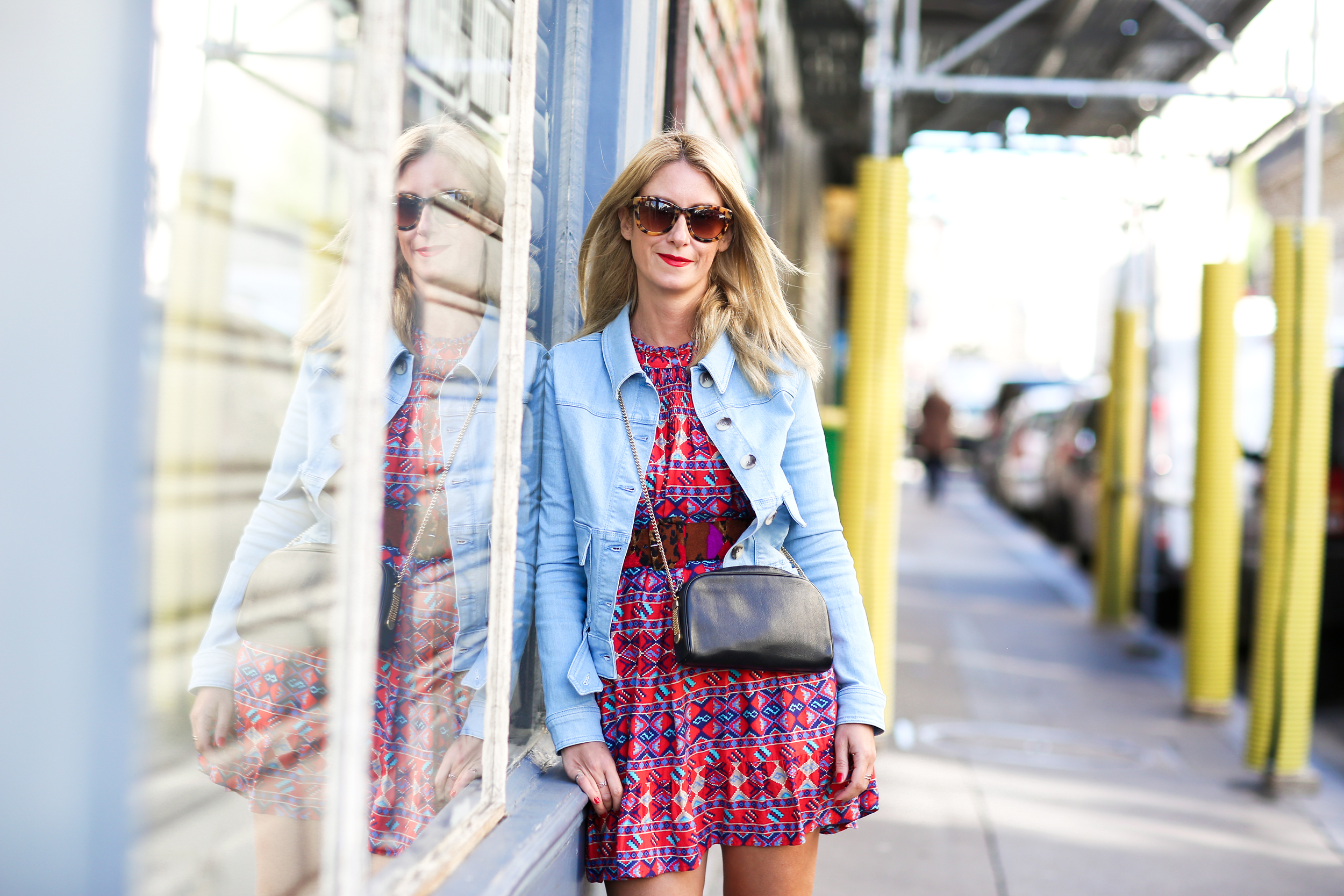 20 degrees in Paris on Saturday, 27 degrees in Biarritz yesterday! Wouhouh! We have a such a beautiful weather at the moment! And rather than go into the winter we tend to think that we are going to sunny days.
That, it reminds me of the time when I was younger in Biarritz and where I had been to the beach till the beginning of November… A record! Or better yet, the time were we had spend 2 Christmas in a row in T-shirt! Ah, sweet memories! 😉
So, I took the opportunity to leave on the side my coat and take out the denim jacket.
It's simple, this jacket, I love it!
In fact, you need to know that I have never owned a denim jacket in my life (except the one of my friend Melanie in Fond-Romeu I had managed to tear taking the shoulder in a grid). So, here is my first denim jacket.
I had a crush for this one because the fabric is slightly stretchy, not too thick, well-cut (a little cramped in the middle, as I like), light faded blue and with nice detail such as this small button placket down.
I like to associate with this trendy vintage dress. Half matryoshka and half bohemian. A wide colorful leopard belt to mark the waist, a small black bag to carry on the bare minimum, my sunglasses, and my old converses for frolicking in Paris or (if the weather wants to wait for me) Biarritz (I flied this morning) from where I will give you my news on Snapchat: @evebeaauuu and Instagram 😉
Good day my beloveds,
Photos: Marie-Paola Bertrand-Hillion
Veste en Jean/Denim Jacket: Mark & Spencer (en boutique actuellement sinon celle-ci est bien aussi  –  Robe/Dress: Vintage from Prior K  –  Baskets: Converse  –  Sac/Bag: Vintage  –  Lunettes de soleil/Sunglasses: Anthropologie (similaire ici)