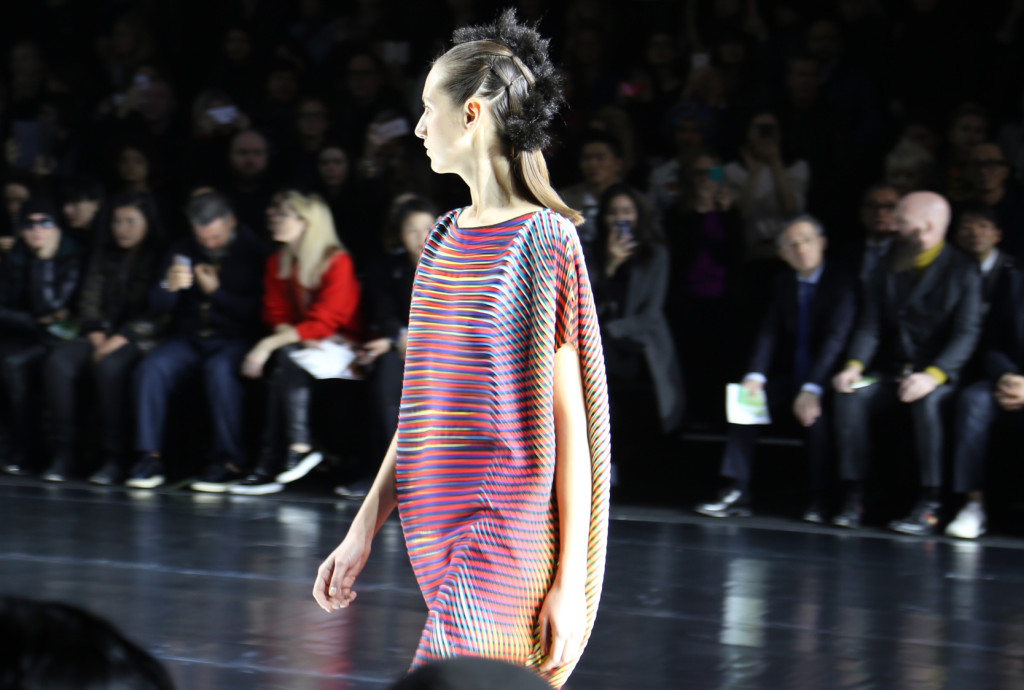 By following me on Instagram, you have already had a glimpse of the Issey Miyake Autumn-Winter 2016 women's collection. Issey Miyake invited me to their show and I had the chance to experience this extraordinary collection where technical prowess, art and fashion merge and reinterpret themselves in a further and unexpectedly way.
.
From a distance point, from a picture, or if you don't know the famous "Pleats Please", the technical clothing specificity of Issey Miyake, we might think that stripes and prints are just what they are. But if you know a little bit the history of the brand and what makes its success, we recognize the incredible talent both artistic, technical and innovative of Issey Miyake.
.
The first silhouettes are slender, dynamic, even sporty. We would immediately want to wear these clothes (including the colored soled boots). The lines are clean, the colors are bright and the new pleated called "Baked Stretch" (the cloth are printed with glue and cook for a result of prismatic patterns and concentric circles), the garment becomes almost iridescent.
.
For the second part of the show, the clothes are transformed into structured pleated whril and optical illusions in three dimensions, made with another method called "Steam 3D Stretch" which involves baking the fabric so that it shrinks and deforms.
.
The models dressed in black and white then become chrysalis.
.
I'll let you see the pictures that I took from the Issey Miyake Autumn-Winter 2016 collection 🙂
Et pour avoir un aperçu en vidéo de la collection femme Issey Miyake Automne-Hiver 2016, c'est ici!
Photos: by me!