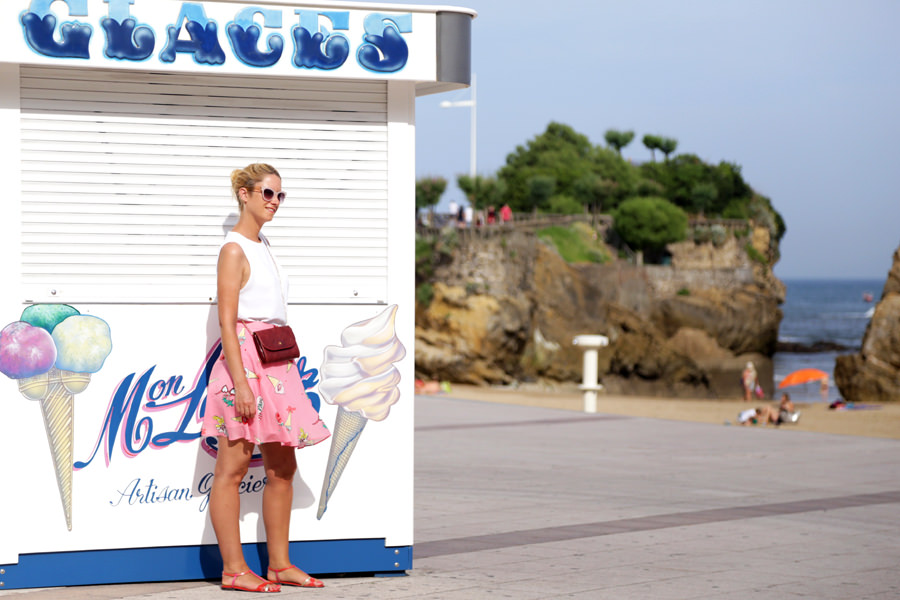 Quel meilleur endroit que le glacier de la Grande Plage de Biarritz pour illustrer ma nouvelle jupe et ce nouveau look.
J'avais calculé mon coup, en patientant d'aller à Biarritz début Juillet pour faire ces photos. J'aime trouver des endroits sympas pour photographier mes looks, d'une part, parce que cela change de l'éternel mur blanc ou gris et d'autre part parce que cela entretient une partie du rêve, (non?). J'essaye de trouver le bon décor, l'environnement, la porte, la couleur, le dessin ou l'architecture en adéquation avec chaque tenue. Le but est d'avoir un joli rendu, une fois les photos sur le blog.
En vérité, je savais que cette jolie "Baraque à Glaces" serait l'endroit idéal pour immortaliser ma jupe à "Glaces" (justement). Dans ma mémoire, il me semblait qu'il y avait une typographie "Candy" à l'ancienne et des dessins de glaces à l'Italienne. Bingo! C'est bien ça! Je repère les heures ensoleillées pour prévoir l'heure de la séance photo et on y va!
Invitée à la vente presse Paul & Joe, il y a quelques semaines, je suis tombée nez à nez sur cette jolie jupe rose à l'imprimé glace, en T38. Gros coup de bol, c'était la seule. Lucky me! Je l'associe avec un haut blanc très sobre de chez Zara et je joue avec les accessoires. Lunettes de soleil couleur nude, petit sac bordeaux et sandales colorées donnent le "La" à cette jupe très pop et girly. Prochain défi de l'été, trouver un autre haut, soit rayé, ou à message pour un deuxième look possible avec cette jupe qui mérite à être vue et revue, portée et reportée (je crois que l'on fait toute ça quand on a une nouvelle pièce fétiche dans sa penderie).
Aujourd'hui, je reprends l'avion avec Paolo, direction Biarritz à nouveau. Depuis 3 semaines, je voyage pas mal: Paris-Londres, Paris-Biarritz, Paris pour la Fashion Week Haute-Couture, puis Paris-Biarritz à nouveau! J'adore voyager. Si je le pouvais je ne ferai que ça, tout le temps ! J'aime l'adrénaline et ce sentiment euphorique que cela me procure. Au programme, de cette semaine: farniente, plage, visite de ma jolie région, découverte des spécialitées locales pour Paolo, apéros devant le coucher du soleil et concert de Soko et Paradis au Big Festival (on voulait à l'origine réserver pour Brigitte mais c'était déjà complet :-/ )
Je profite également de ce post pour vous souhaiter de bonnes vacances!
Et si vous n'êtes pas encore en vacances, sachez que je continuerai à poster cette semaine sur le blog, sur Instagram et Snapchat: evebeaauuu 😉
---
What better place than the Ice Cream maker of the Grande Plage of Biarritz to illustrate my new skirt and this new look.
I calculated my time, by waiting to go to Biarritz in early July to make these pictures. I like to find nice places to photograph my looks, first, because it changes the eternal white or gray wall and secondly because it maintains a part of the dream, (right?). I try to find the right setting, the environment, the door, the color, design or architecture in line with each outfit. The goal is to have a nice result, once the photos on the blog.
In truth, I knew this nice ice cream shop would be the ideal place to immortalize my skirt made with ice creams pattern. In my memory, it seemed that there was a vintage "Candy" lettering and ice cream drawings. Bingo! That's right! I spot the sunny hours to provide time for the photo shoot and we go!
Invited to the Paul & Joe sale press days, few weeks ago, I came face to face with this pretty pink skirt printed with icecream, in size 38. Big stroke of luck, it was the only one. Lucky me! I associate it with a very simple white top from Zara and I play with the accessories. Nude sunglasses color, small burgundy bag, colorful sandals give the tone to this very pop and girly skirt. Next challenge of the summer, find another top. Stripes, or with a message for a ​​possible second look with this skirt that deserves to be seen and re-wear (I think we makes all this when we have a new favorite piece in our wardrobe).
Today I take the plane with Paolo direction Biarritz again. Last three weeks, I traveled a lot: Paris-London, Paris-Biarritz, Paris for Fashion Week Haute Couture and Paris-Biarritz again! I love traveling. And if I could I would do it all the time! I like the adrenaline and the uphoric feeling it gives me. On the program this week: relaxation, beach, nice places to show, discovery of the nice places and local food for Paolo, aperitifs at sunset surrounding by the ocean and concerts of Soko and Paradis at the Big Festival (we originally wanted to book Brigitte but it was already full: – /)
I also take the opportunity with this post to wish you happy holidays!
And if you're not on holidays, I'll continue posting during this week on the blog, Instagram and Snapchat: evebeaauuu 😉
Photos : Franca
Top: Zara – Jupe/Skirt: Paul & Joe (actuellemnet en soldes) – Sac/Bag: Chanel (vintage) – Sandales/Sandals: Karine Arabian