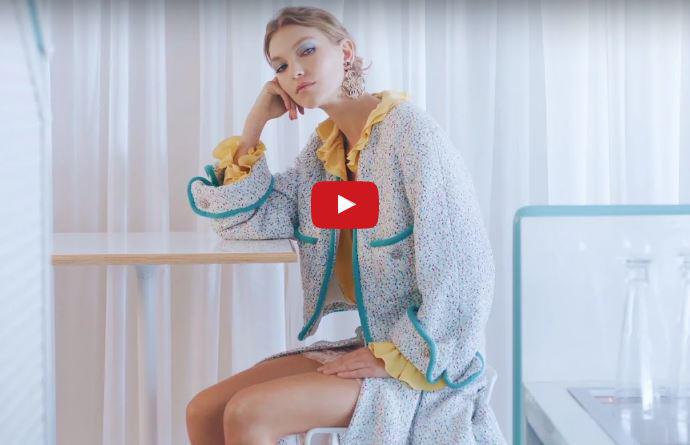 Basically, I love cinema (apart from rubbish films that seems to be more and more common in recent years) and fashion, of course! So when the Ready-to-Wear brands make their cinema through their advertising campaigns realized like real films, I plunge in willingly.
And it's crazy, magic always works as much. I am always thrilled to discover inspiring decorations (the Carven house), destinations that make you dream (Coachella) and which are on my "To Do List" travel to do and stylish looks in a very licked aesthetics.
If you like the fancy universe of Wes Anderson (Prada), the hypnotic visuals in Virgin Suicides (Gucci), the cool life of skaters and surfers (Hermès), Jules and Jim reviewed and corrected by a mischievous Lea Seydoux and the romantic intrigues worthy of the great Hollywood movies (Burberry), you will love these mini-movies.
These videos prove that trade can become art, especially when the best artists and brands join forces. From Petra Collins for Gucci to Wes Anderson and Roman Copolla for Prada and Ava DuVernay for Miu Miu, this is the ultimate video playlist.
All you have to do is press PLAY 😉
Spring-Summer 2017 Ready-to-Wear CHANEL Collection featuring Arizona Muse – Chanel :

"My CHANEL Ballerinas" Spring-Summer 2017 ballerinas :

Petra Collins Imagines a Hungarian Dream for Gucci Eyewear :

The Tale of Thomas Burberry – Burberry Festive Film 2016 :

H&M Loves Coachella :

Hermès – Maxi-twilly cut :

Hermès – Silk Waves :

CARVEN SPRING SUMMER 16 CAMPAIGN :

Prada Candy Episode 1 et 2 – Film directed by Wes Anderson and Roman Coppola :


PRADA presents "CASTELLO CAVALCANTI" by Wes Anderson :