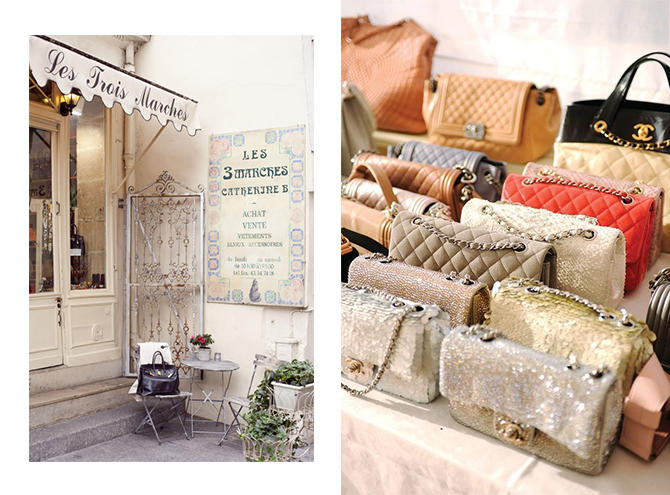 — Article updated on December 30, 2020 —
Hi 🙂
Today I come back with a topic that will interest you greatly. Because of my job as a Personal Shopper, many of you ask me the question what are "My Parisian Addresses" to buy a beautiful vintage Chanel or Hermès bag.
I have a little gift for you, here are 5 of my "secret Personal Shopper addresses".
All my other vintage luxury addresses are to be discovered during the Paris Fashion Tour which you can book here.
Just before getting to the heart of the matter with my favorite addresses, let me give you 3 tips, for a first luxury bag purchase.
Choose a dark-colored bag. Bags with light color like beige, nude … are delicate. Color transfer spots are common and indelible. (Ex: Black jeans on nude bag = transfer of black color on your bag beige!)
Buy a leather bag, rather than one in fabric or glitter bag or even suede that will stain and spoil more quickly.
Choose the color of your bag by thinking about the overall color range of your wardrobe. This will prevent you from having a crush for a color of bag that you will never be able to associate with 🙂
– LET'S TALK ABOUT ADDRESSES NOW –
A small boudoir shop delicately decorated in the heart of the Marais. The vintage Chanel bag selection is fairly small but still fair. The bags are in good condition and the saleswoman is charming.
Adresse: 97 Rue Vieille du Temple, 75003 Paris
Tel: +33(0)1 42 71 13 41
Horaires: from Tuesday to Saturday, 11:00am – 19:00pm.
Chanel Vintage Bag:

A large boutique (2 in fact) with a wide choice of Chanel vintage and Hermès bags from the most recent to the most vintage. There is also a very large choice of Pret-à-Porter and Chanel jewelry among others.
Adresse: 4 Rue des Saussaies, 75008 Paris
Tél: +33(0)6 07 32 92 57
Horaires: from Monday to Saturday, 11:00am – 19:00pm.
Chanel Vintage Bag:

Very present on Instagram, they also have a website where all their products are available. The choice of luxury brands is wide (Chanel, Hermès, Celine, Balenciaga, Chloé, etc.) with mostly new pieces.
Adresse: 5 Rue de Chazelles, 75017 Paris
Tel: +33(0)1 72 60 01 61
Horaires: by appointment only.
Chanel Vintage Bag:

Before going to the shop, you can do your research on their website, all their stock is available here. The shop is not cosy but it is handy to see the bag in real life. They have a wide selection of luxury bags such as Chanel, Hermès, Dior… recent or vintage.
Adresse: 45 Avenue Bosquet, 75007 Paris
Tel: +33(0)1 44 18 31 50
Horaires: from Tuesday to Saturday, 11:00am – 19:00pm. Close at lunchtime.
Chanel Vintage Bag:

This shop is a real cave of Ali Baba! Here, there are Chanel and Hermes bags everywhere you put your eyes. The shop is small but contains treasures and rare pieces. In addition, the person who runs the shop is charming.
Adresse: 1 Rue Guisarde, 75006 Paris
Tel: +33(0)1 43 54 74 18
Horaires: from Monday to Saturday, 11:00am – 19:00pm.
Hermès Vintage Bag:

*******
To discover even more Fashion, Vintage, Second-Hand addresses or for Fashion and Style Tips, it's here! 
**************
More inspiration on Instagram and Pinterest … Join me!
^^See you next week for a new article^^