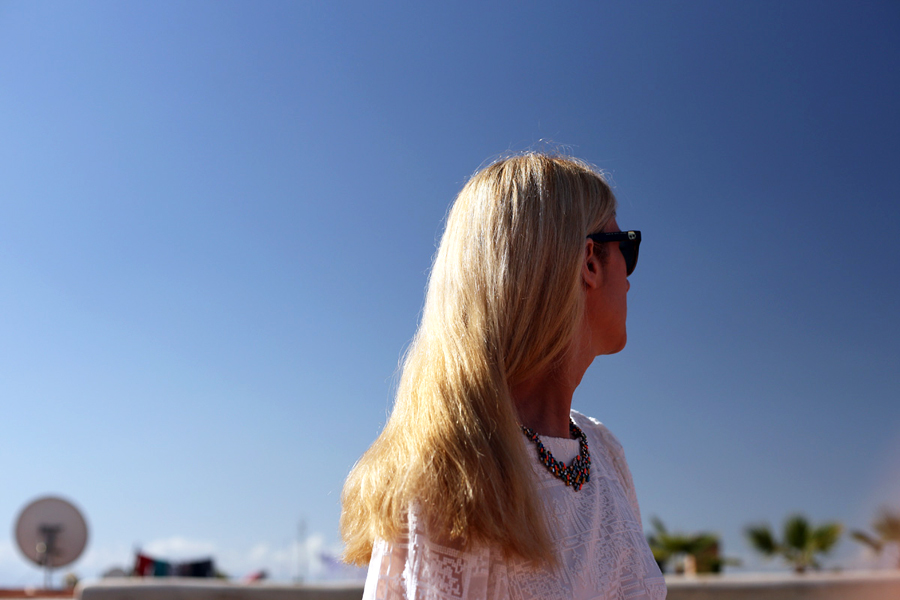 Se réveiller tôt. Regarder le ciel. Ouvrir la fenêtre. Monter sur la terrasse. Le printemps dans l'air. Le petit déjeuner (oriental).
Une robe blanche et légère. L'horizon de toits. Chaque toit une antenne. Un petit oiseau sur son toit.
Le parfum de jasmin qui me tente. Personne d'autre que nous (sur le toit).  Le soleil qui perce des nuages tièdes. Une dernière gorgée de thé à la menthe.
C'était ça le luxe, ce matin là…
Wake up early. Look at the sky. Open the window. Get on the terrace. Spring is in the air. Breakfast (eastern).
A white light dress. The horizon made of rooftops. Each rooftop has their own satellite.  A little bird on his rooftop.
The scent of jasmine is tempting me. No one other than us (on the roof). The sun breaking though lukewarm clouds. One last sip of mint tea.
That was the luxury, that morning …
Photos: Paolo
Robe/Dress: Sessun Oui  –  Sac/Bag: Celine Lefebure  –  Sandales/Sandals: Karine Arabian  –  Collier/Necklace: Zara  –  Lunette de soleil/Sunnies: Marc by Marc Jacobs