La présentation des collections croisière 2014 (Resort) vient de se finir Lundi.
Je me suis amusée à décrypter quelques tendances pour l'Été 2014. Je dis amusée car c'est un vrai bonheur, je prends beaucoup de plaisir à le faire. J'adore ça et plutôt que de le faire dans mon coin, je vous le fais partager. J'espère que la bonne humeur et l'énergie (positive) qui m'anime se reflétera dans les prochains posts. 
Pour commencer cette série Tendance Croisière 2014, j'aimerai vous parlez de rayures. Des rayures? me direz vous, mais on est déjà en train d'en manger pas mal cet Été (version bicolore: noir et blanc)! Et oui, des fois une tendance dure plusieurs saisons (regardez le pantalon coupe carotte, par exemple). 
Toujours est-il que la rayure 2014 est décalée, revisitée, revue et corrigée pour mieux affiner et mettre en valeur notre silhouette.
En plus, elle est colorée, c'est mieux, non?
The presentation of the Resort collection 2014 just ended Monday.
I enjoyed myself to figure out some trends for Summer 2014. I love it and rather than doing it on my side, I do want to share it. I hope that the good mood and energy (positive) which leads me will reflect in future posts.
To start this series of Trend resort 2014, I'd like you to talk about stripes. Stripes? you will tell me, but it is already hard to go through this summer (black and white version)! And yes, sometimes a trend lasts several seasons (see the carrot cut pants, for example).
Still, the stripe is shifted in 2014, revisited, revised to better afiner for our silhouette.
In addition, it is colorful, it's better, right?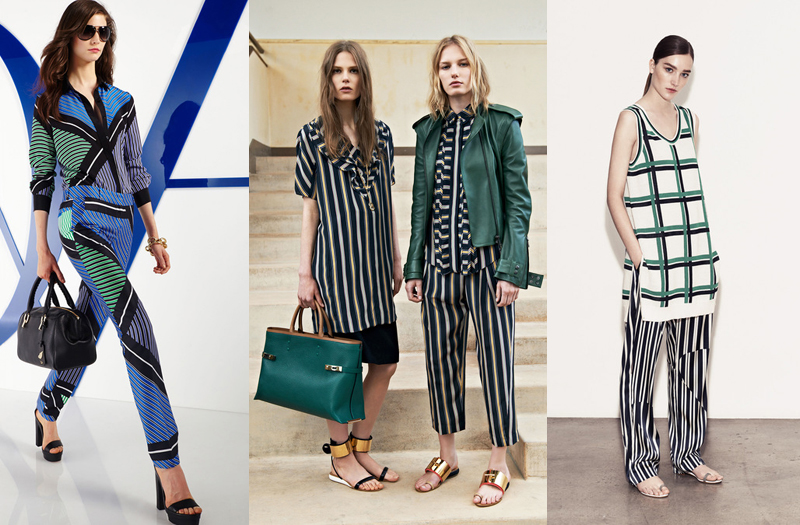 Diane Von Furstenberg – Chloé – Thakoon Addition Resort 2014