Après la vision multicolore des crazy flowers d'hier, je vous propose de continuer sur les imprimés. 
Cette fois-ci, la palette de couleurs est très simple et sobre. Il n'y aura pas de faute de gout puisque nous jouons sur seulement deux couleurs: le noir et le blanc à moins que ce ne soit l'inverse, le blanc et le noir!
L'idée est de mixé plusieurs imprimés ensemble pour donner une certaine dynamique graphique car avec un seul imprimé cela ne marchera pas. 
Vous pourrez donc mélanger un plumetis et un gribouillis (Balenciaga), un zig-zag et un moucheté (Proenza Schouler), un tacheté, un zèbre marbré et un

Jackson Pollock
 (Giambattista Valli).
Bon, après, vous pouvez mélanger à votre sauce… à condition de ne pas rajouter de moutarde, de mayonnaise et de ketchup (ben, oui, si des fois vous auriez envie de devenir le nouveau Jackson Pollock!).
After the vision of multicolored crazy flowers yesterday, I suggest you  to continue on prints subject.
This time, the color palette is very simple and sober. There will be no lack of taste as we play only with two colors: black and white unless it is the opposite, white and black!
The idea is to mixed several prints together to give a certain dynamic because with one it will not work out.
So, you can mix dots and scribbles (Balenciaga), zig-zag and flecked (Proenza Schouler), a mottled, marbled zebra and a 
Jackson Pollock
scribble
(Giambattista Valli).
Well, after, you can mix your sauce … but beware to not add mustard, mayonnaise and ketchup (well, yes, if some times you'll want to become the new Jackson Pollock!)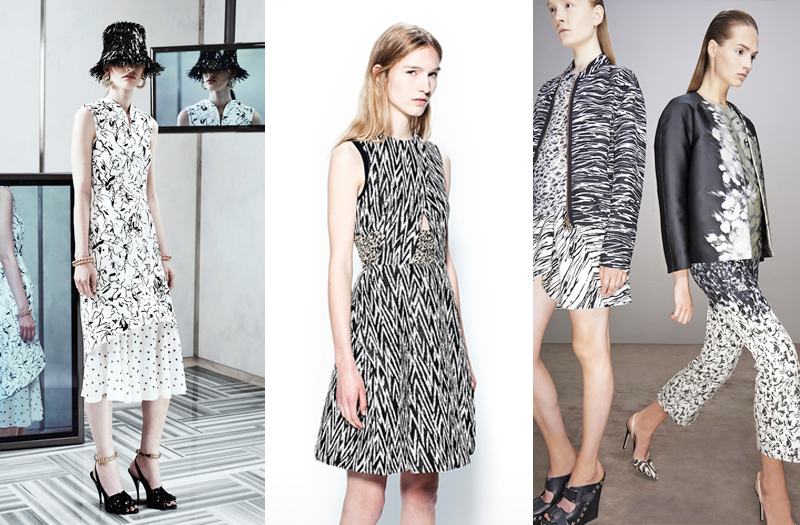 Balenciaga – Proenza Schouler – Giambattista Valli Resort 2014
Photos: Style.com