Je vous disais hier que la photo de Maureen O'Sullivan me faisait penser aux photos de Man Ray, j'ai trouvé lesquelles.
J'avais visité l'exposition Man Ray Portraits à la London's National Gallery en Mai dernier où il y avait ces deux portraits. De toute l'exposition, ce sont ces deux photographies (voir dessous) qui m'ont le plus marquées. Je n'en n'avais pas parlé en rentrant de Londres, je ne savais pas comment en parler et j'ai laissé ça de coté. C'est seulement maintenant en voyant la photo de Maureen O'Sullivan que j'ai eu le déclic. Je retrouve un mélange énigmatique, froid et féminin à la fois entre le portrait de Lee Miller en négatif et Kiki de Montparnasse avec un masque africain (je crois que cette série photo est parue dans le Vogue de l'époque).
I told you yesterday that the photo of 
Maureen O'Sullivan
 reminded me of photographs by Man Ray, I found them.
I visited Man Ray Portraits exhibition at London's National Gallery last May when there were these two portraits. From all the exhibition , it is these two photographs (see below) that have marked me the most. I have not talked  about it after returning from London, I did not know how to talk and I left that aside. It is only now seeing the photo of Maureen O'Sullivan I had clicked. I found an enigmatic mix, cold and feminine at the same time between the portrait of Lee Miller solarised and Kiki de Montparnasse with an African mask (I think this photo series was published in Vogue at the time).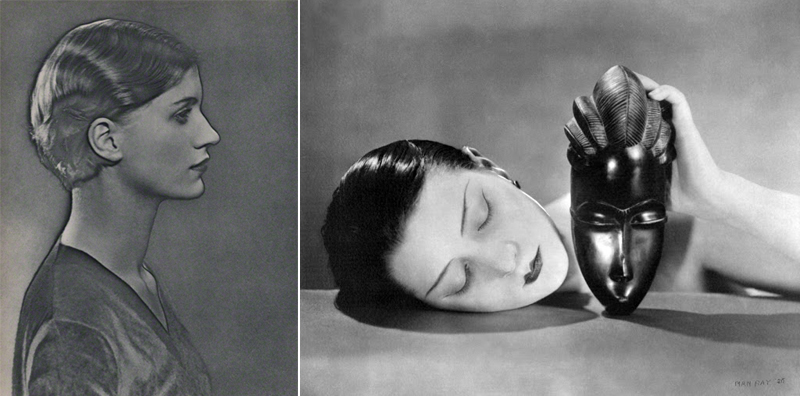 Portrait of Lee Miller 1929 and Kiki de Montparnasse in Black and white 1926,  Man Ray