Parmi les défilés présentés à Londres, j'ai beaucoup aimé trois shows, je vous explique tout de suite lesquels et pourquoi: 
– Antonio Berardi pour les découpes graphique dans des matières telle que la dentelle. Des silhouettes délicates, aériennes, féminines, tout en transparence. 
– Chez Burberry Prorsum tout était bien. De la gamme de couleurs pastels, la maille douillette en cachemire associée aux dentelles "Made in UK", les jupes crayon taille-haute (souvent transparente) en passant par les silhouettes à poids. J'ai trouvé la collection féminine, douce et sexy.
– Et Mary Katrantzou pour les imprimés incroyables (sa marque de fabrique), on ne le voit pas tout de suite mais ce sont des imprimés de lacets, œillets et perforations de chaussures (je pensais au début que c'était les détails d'une guitare en imprimé). De plus, avec les formes des silhouettes choisies, je ne peux pas m'empêcher de penser aux combinaisons de surfers. Les robes brodés en deuxième partie du défilé, elles, sont de pures bijoux. Pas évident à porter au quotidien mais sublime…
Among the shows exhibited in London, I enjoyed more specially three of them, I tell you right away which ones and why:
– Antonio Berardi for graphic cutouts used on materials such as lace. A delicate game of airy, feminine and  transparency silhouette.
– At Burberry Prorsum all the silhouettes were divine. The range of pastel colors, the cozy knit cashmere, lace "Made in UK" associated with, high-waist pencil skirts (often transparent) through the polka dots silhouette. The collection was feminine, lovely sweet (by colors) and sexy.
– And Mary Katrantzou for incredible print (her trademark), we do not see it right away but they are in fact printed laces, eyelets and perforations from the … shoes. (I thought at first that it was the details of a guitar printed). In addition, with the shapes of silhouettes chooses, I can not help myself but think of the surfers bodysuit. Embroidered dresses in the second part of the parade, were pure fantaisy jewels. Not easy to wear everyday but sublime …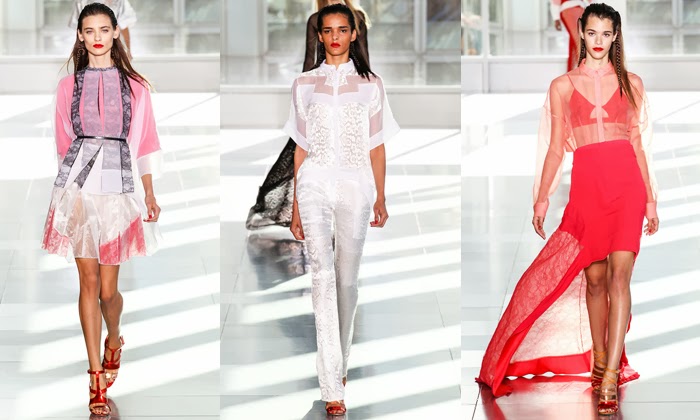 Antonio Berardi SS 2014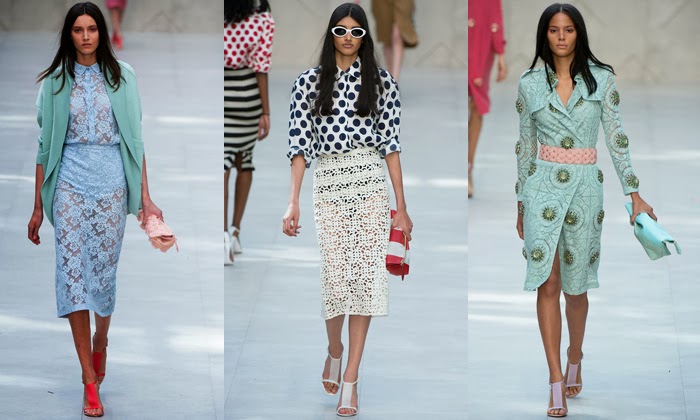 Burberry Prorsum SS 2014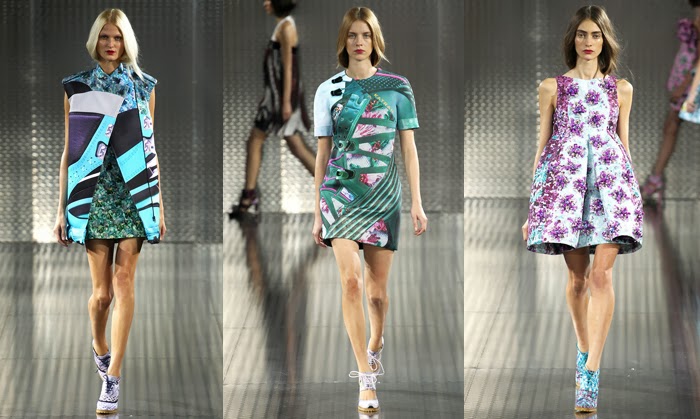 Mary Katrantzou SS 2014