Cela fait quelques semaines que je parle de la tendance des pulls à « poils » ou « oversized ». Pour rester à la maison on n'aurait pas forcément besoin d'un bas, une petite culotte suffirait. Votre chéri serait surement ravi de vous voir vous promener sous son nez comme ça 😉
Mais pour sortir, il nous faut bien un bas! Une jupe ça vous branche? Mais pas la petite jupette, non!!!
La grande tendance de cet hiver c'est la « jupe skater ». Ce sont ces maxi jupes évasées qui cette année arrivent sous le genou. Les matières sont souvent technique, en néoprène ou en laine bouillie, il faut que la matière soit un peu rigide pour un maximum de volume. La jupe skater s'accessoirise avec des Vans, forcément… après tout, autant avoir le total look skater! Et pourquoi pas un sweat, comme celui que porte Gisèle Bundchen en photo (c'est un Kenzo).
Après, vous pouvez changer les accessoires, pour un look plus « boyish », des derbys un peu masculines seront parfaites et pour être tout simplement féminine des talons haut sauront vous faire une silhouette de rêve.
Since few weeks I'm talking about the trend of « hairy » or oversized sweaters. To stay at home we would not necessarily need a bottom, unless a knicker. Your lover would probably love to see you walk under his nose like that 😉
But to go out , we need a bottom! Is a skirt ticking you ? But not the little skirt , no!
The big trend this winter is the « skater skirt ». Long under the knee and flared with a maximum of volume. The materials are often technical , neoprene or boiled wool, it is necessary that the material is a little stiff to have some volume. The skater skirt is matching with Vans, necessarily … after all we dare to have the total skater look or not! And why not a sweat , like the one worn by Gisele Bundchen in picture ( this is a Kenzo ) .
If it's a bit too much for you, just change the accessories for a look more  » boyish  » derbies will be perfect and to be very feminine high heels will make you a dream figure.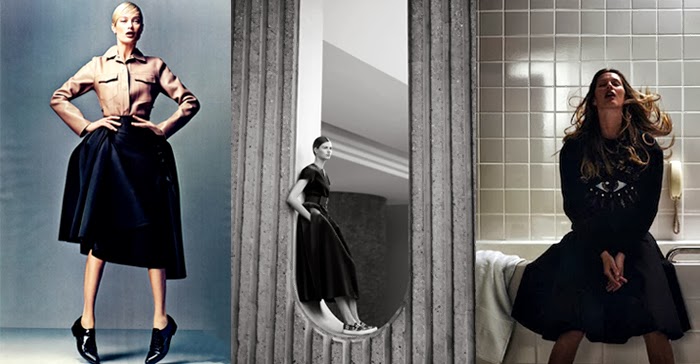 Murphy in Lanvin skirt by Craig McDean For Vogue US JULY 2013 – Bette Franke in Emporio Armani dress by Thomas Whiteside for ELLE SEPTEMBER 2013 – Gisele Bundchen by  Roe Ethridge for SELF SERVICE FALL 2013-2014