Hello mes chéri(e)s, j'espère que vous ne m'en voudrez pas si je saute la New-york Fashion Week pour vous parler directement de la Fashion Week de Londres pour l'Été 2015 qui vient de se terminer hier.
Voici au programme quatre très belles collections qui m'ont beaucoup plu, et qui je j'espère, vous plairont aussi 🙂
Hello my darling (s), I hope you don't mind if I skip the New York Fashion Week to talk directly to the London Fashion Week Summer 2015 which has just ended yesterday.
Here's the program of four beautiful collections that I really enjoyed and I hope you will also like 🙂
Un arc en ciel de couleurs, de broderies et d'imprimés, pour un retour direct à l'été 1967. Entre Rock Spyché et Summer of Love, il n'en faut pas moins à Peter Pilotto pour réaliser une collection très réussit et sooo désirable!
Peter Pilotto:
A rainbow of colors, embroideries and prints, for a direct return in the summer of 1967. Between Spych Rock and Summer of Love, it is nevertheless necessary to Peter Pilotto to make a collection very successful and sooo desirable!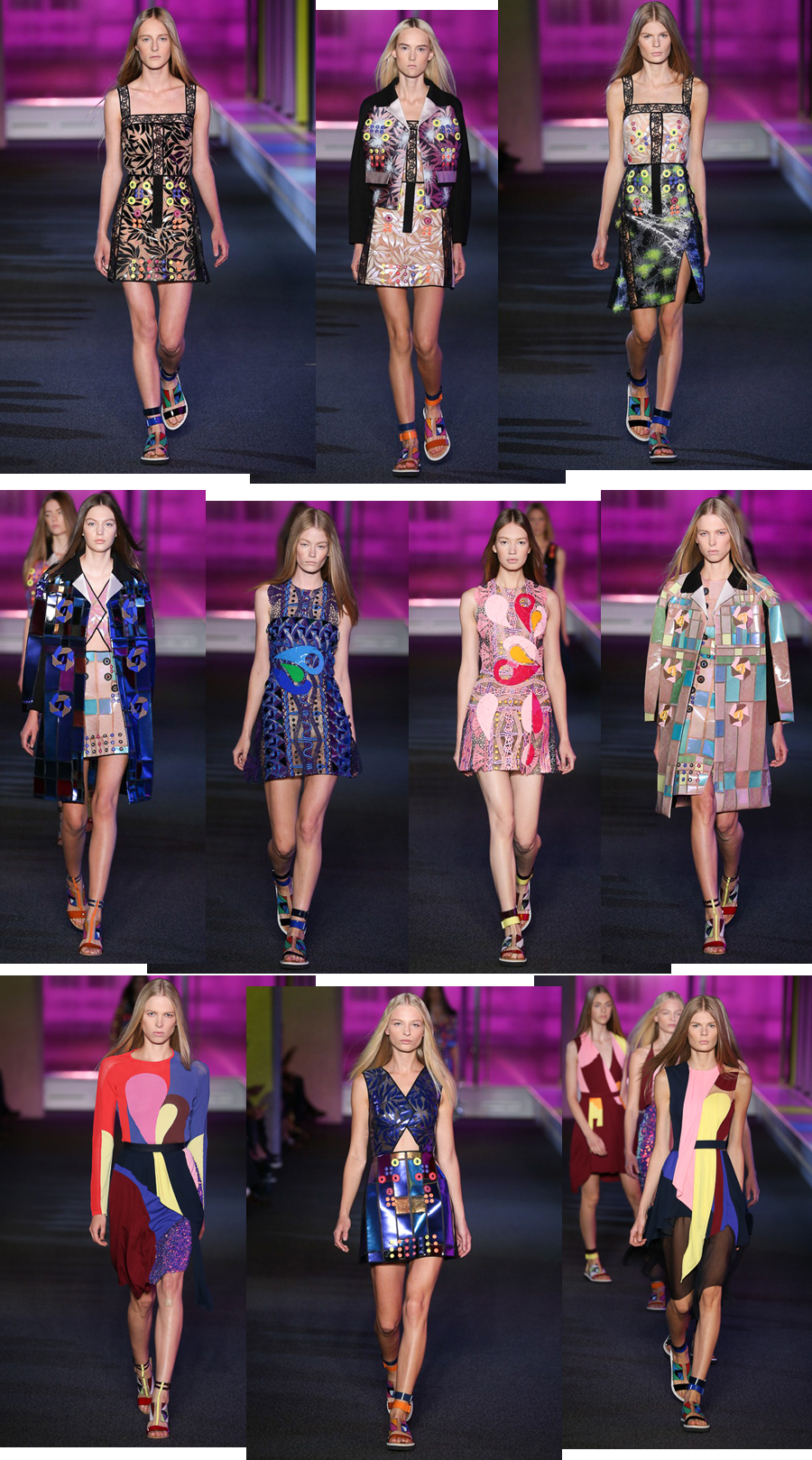 Quand je regarde sa collection, je me dis que Mary Katrantzou aurait pu créer sa collection en partenariat avec Walt Disney pour "La Petite Sirène", version anthropologique.
Mais attention quand je dis ça, c'est avec toute mon admiration. Car ce qui m'émerveille chez Mary Katrantzou, c'est son imagination débordante, sa créativité surréelle et sa capacité à toujours aller chercher plus loin dans les matières, les textures et les imprimés. Cette fois-ci on va à la rencontre de la nature avec la naissance de la terre et une princesse des mers, arborant sur son corsage des broderies corail et autres créatures marines autour du cou.
Mary Katrantzou:
When I look at her collection, I think that Mary Katrantzou could have create her collection in partnership with Walt Disney for "The Little Mermaid", on an  anthropological release.
But be careful when I say this, it is with all my admiration. What amazes me the most with Mary Katrantzou, it's her imagination, her surreal creativity and ability to always pick up new technologies and techniques in her materials, textures and prints. This time we are going to meet nature with the birth of the earth and a princess of the sea, wearing on her blouse beautiful coral embroidered and other sea creatures around the neck.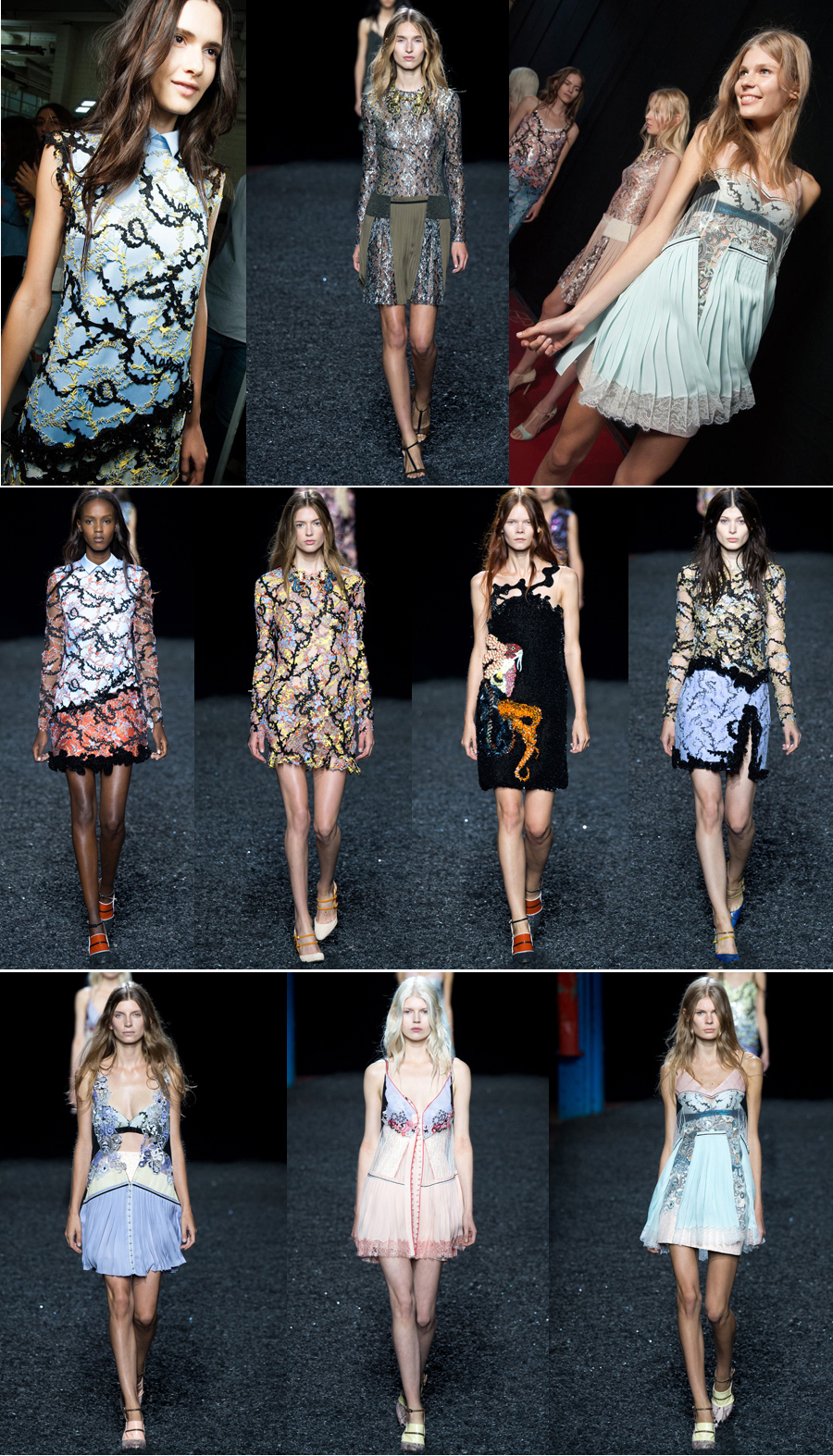 Inspiré par les Victoriens qui ont étudié la botanique et parcouru le monde, la collection Erdem  m'a enchanté. Des broderies "feuillage jungle" dévorantes, aux incrustations plumes de coq, aux robes longues imprimé fleurs, Erdem m'a touché en plein cœur!
Erdem:
Inspired by the Victorians who studied botany and traveled the world, the Erdem collection enchanted me. Embroidery "jungle foliage" devouring, inlaid cockerel feathers, long dresses with floral print, Erdem touched me in the heart!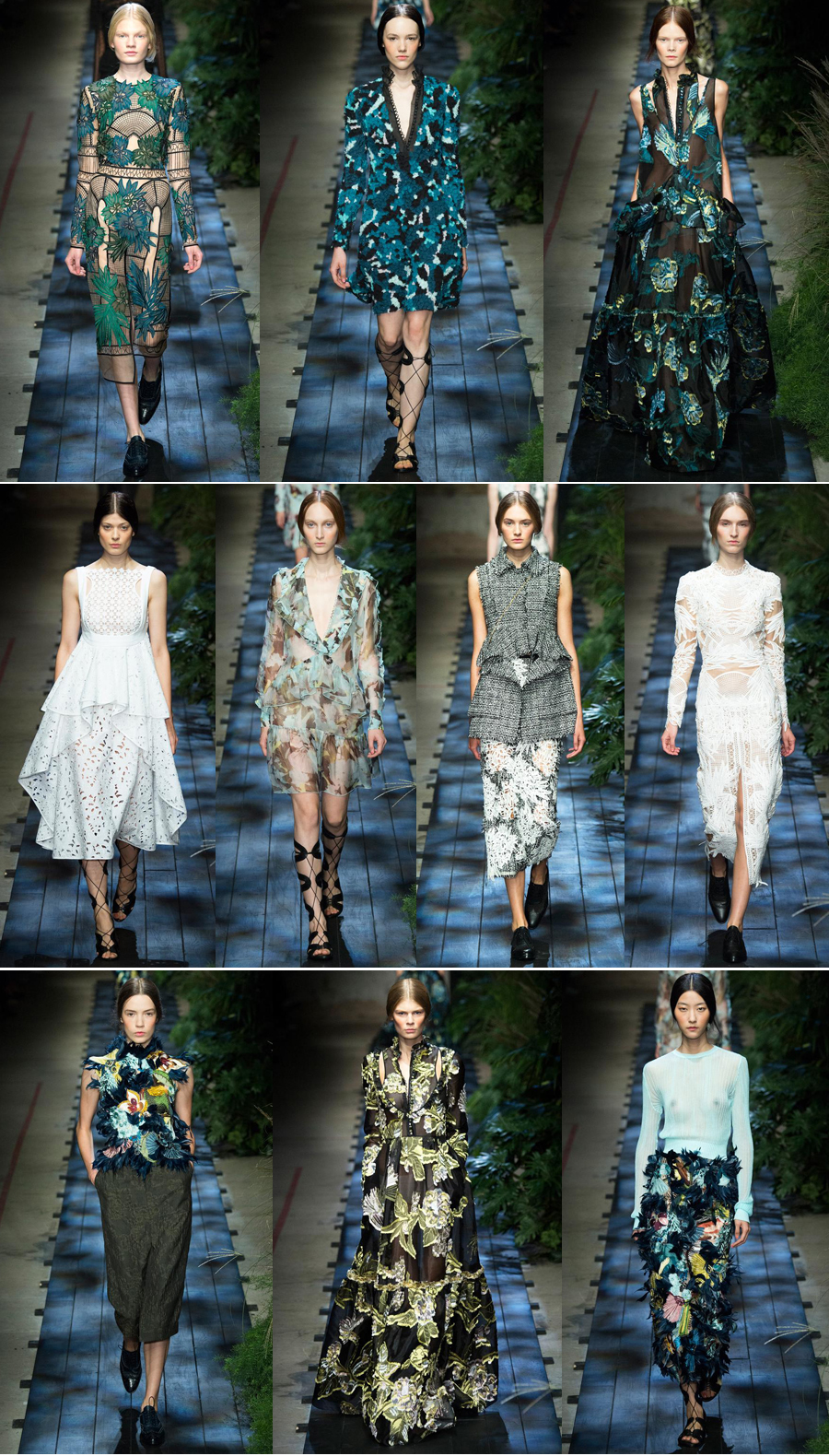 Ce que j'aime chez Burberry, c'est la palette de couleurs, toujours sublime, suptile et raffinée.
Par contre, cette fois, j'ai un doute sur les jupons en tulle superposés et la ceinture gros nœud (toujours en tulle). Disons qu'il faut avoir la taille mannequin pour pouvoir porter ces looks! En tout cas à regarder, je trouve ça aussi ravissant que la campagne Anglaise qui est aussi la principale inspiration de Christopher Bailey pour Burberry.
Burberry Prorsum:
What I love about Burberry is the color palette, always sublime, suptile and refined.
By cons, this time, I have a doubt about the tulle layering skirts and big belt node (still tulle). Let's say that you have to have the model size to wear these looks! Anyway to watch, I think it's charming as an English countryside which is also the main inspiration of Christopher Bailey for Burberry.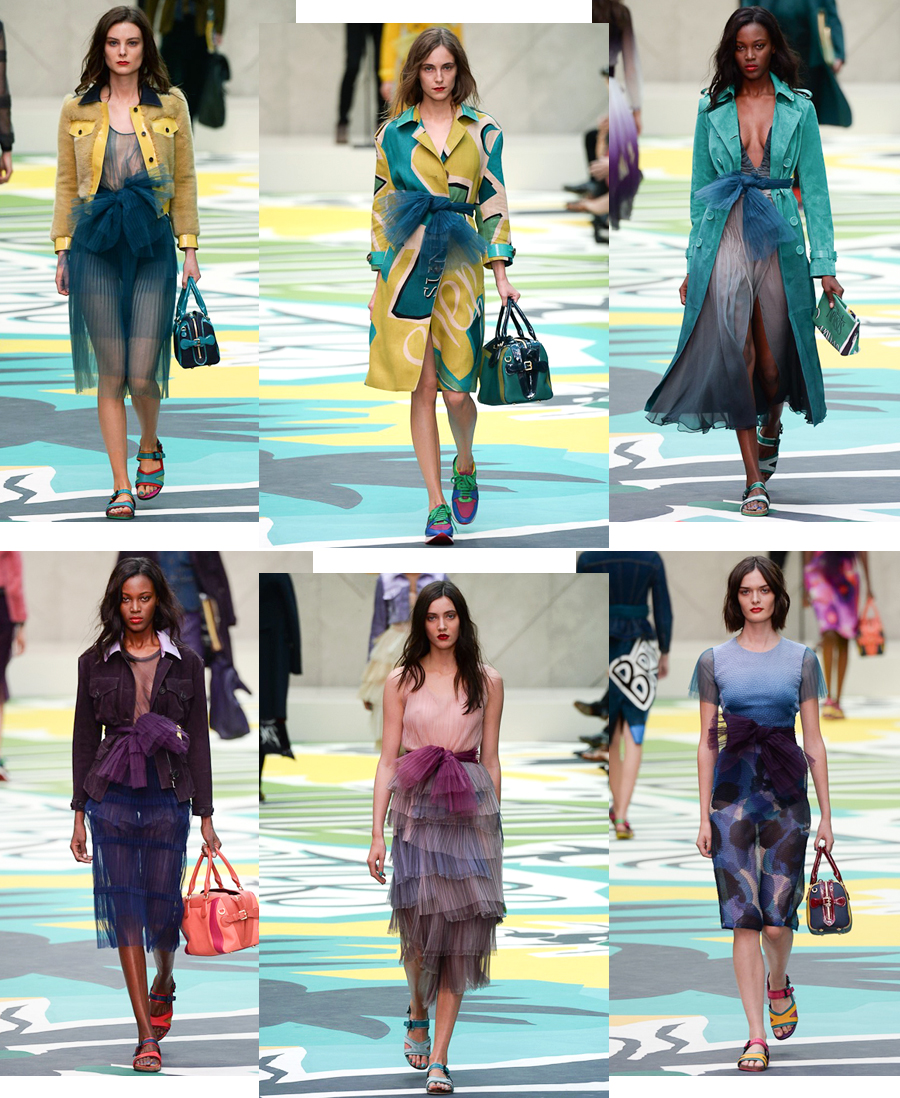 Et vous, y a t-il une collection qui vous a plu? Dites-moi tout, je suis curieuse!
Ah, j'allais oublier, le concours est toujours en cours. A vous de jouer! 🙂
Bisous
And you, is there a collection that attracted you? Tell me everything, I'm curious! 🙂
Kisses