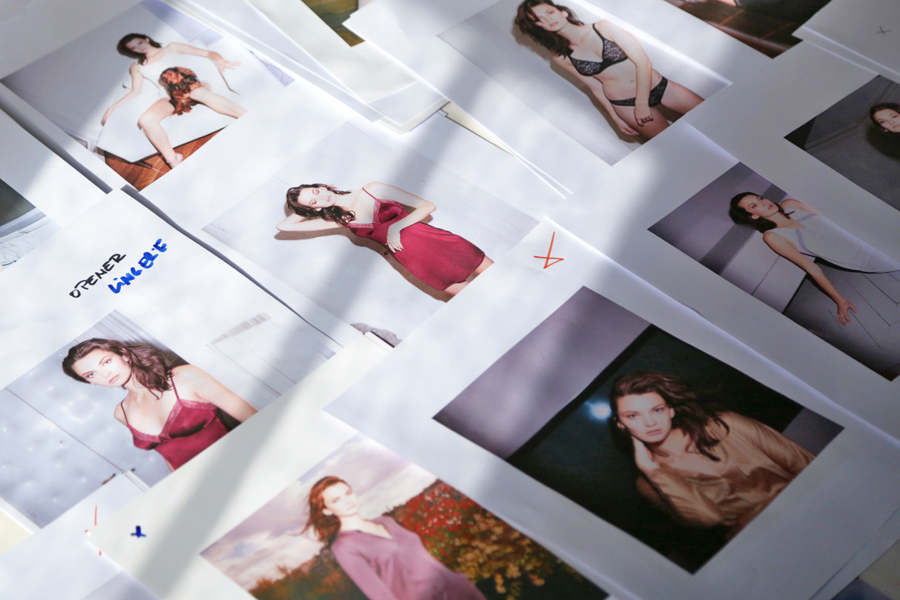 Par une belle journée d'Octobre, je vaquais à mes occupations lorsque je reçois un coup de téléphone du bureau de presse Catherine Miran.
La marque de Lingerie Suisse Hanro me convie à assister au shooting de leur campagne publicitaire pour l'Hiver 15-16 (souvent les marques travaillent 1 ou 2 ans en avance).
Une chance inouïe pour moi, de me replonger dans mes années d'Assistante Photo, où j'ai eu l'occasion de travailler sur de beaux projets  avec de grands photographes de mode. Ravie aussi de redécouvrir Hanro, que je connaissais déjà depuis mes années passées à Londres (la marque est très diffusée en Angleterre).
Ni une, ni deux, j'ai lâché ce que j'étais en train de faire pour me rendre dans un bel appartement Haussmanien loué pour l'occasion.
Anke, la Directrice Marketing, m'explique que chaque année Hanro choisit une grande ville Internationale pour illustrer le décor de la campagne. New-York et Londres les années passées, Paris, la ville lumière cette année. D'ailleurs, la veille une série de photos a été réalisée sur les toits de Paris. Aujourd'hui, c'est donc en intérieur que cela se passe.
L'ambiance est cool et studieuse. Les looks et les décors changent au fil des heures. Je m'éclipse le temps d'un instant dans la pièce du fond, où toute la collection est soigneusement rangée. Et je découvre une collection intemporelle, chic, sobre et très confortable où les T-shirts sont aussi doux et légers que de la soie, les dentelles délicates misent sur la discrétion et les formes des sous-vêtements épousent en douceur le corps féminin.
Retour dans le salon, un ensemble prune est shooté (dernière photo). Il est tant pour moi de les laisser travailler… Je m'éclipse discrètement.
Ah, au fait, pour la petite anecdote, saviez-vous que Dakota Johnson porte des sous-vêtements Hanro dans le film "Fifty shades of Grey" 🙂
On a beautiful October day, I went about my business when I receive a phone call from the Press Office Catherine Miran.
The Lingerie Swiss brand Hanro was inviting me to attend the shooting of their advertising campaign for the Winter 2015-2016 (brands often work 1 or 2 year in advance).
An incredible opportunity for me to immerse myself in my years of Photo Assistant where I had the chance to work on great projects and with talented and well known fashion photographers. I was also delighted to rediscover the brand Hanro, which I already knew from my years in London (the brand is well distributed in England).
Not to think twice, I dropped what I was doing to go to a beautiful Haussman apartment, rented for the occasion.
The atmosphere is cool and studious.
Anke, which is Marketing Director, explains me that every year an International city is chosen by Hanro to illustrate the set decoration of the campaign, New York and London in past years, Paris, the "City of Light" this year. Moreover, the day before a serie of photo was made on the rooftops of Paris. Today, it is indoors with a cosy set.
The looks and the set change as hours go by. I eclipse myself a moment in the back room, where the entire collection is carefully row. And I discover a elegant and timeless Lingerie collection. ​​T-shirts are as soft and light as silk, the delicate lace rely on chic discretion and the shapes of the underwear gently fit the female body.
Back in the living room. A plum lingerie set is shot (last photo). It's time for me to let them work … I slip away quietly.
Oh, by the way, did you know that Dakota Johnson wore Hanro underwears in the movie "Fifty Shades of Grey":-)
Merci au bureau de presse Catherine Miran et à Hanro de m'avoir fait partager un peu de leur journée.
Photographer: Markus Pritzi
Hair and Makeup: Stelli
Stylist: Véronique Tristram
Model: Hannah Johnson