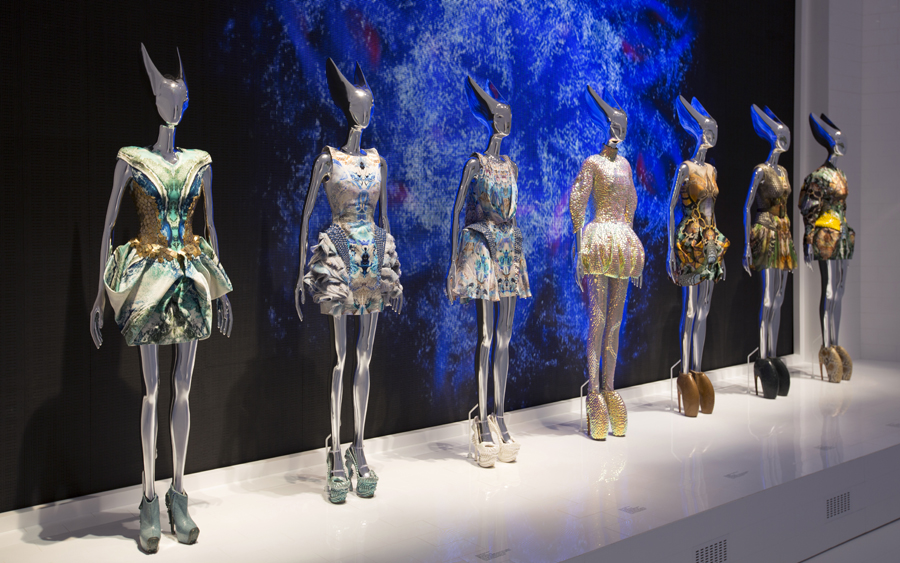 Quelle magnifique exposition!
Impossible pour moi, de faire l'impasse sur l'exposition Alexander Mc Queen: Savage Beauty qui est présentée actuellement au Victoria & Albert Musem à Londres.
Pour notre dernier jour de visite, Paolo m'a accompagné voir cette exposition sur ce créateur très cher à mon cœur.
En effet, à 18 ans, j'ai intégré à Paris ma deuxième école spécialisée dans la couture, (j'ai entamé mes études de Couture dès l'age de 16 ans). Mon tout premier stage Parisien fut chez Givenchy où j'étais Petite Main dans l'Atelier Haute-Couture Flou pour la collection Hiver 2000. A l'époque, le Directeur Artistique de Givenchy était Alexander Mc Queen. Je le revois encore dévaler en riant l'escalier principal de la Maison Givenchy. Ou encore, les fois ou il venait nous voir dans le salon vérifier le rendu des robes que nous finissions de coudre.
Alexander Mc Queen était un créateur de génie, une étoile et je suis fière d'avoir eu la chance de travailler pour lui. Ces moments resteront un souvenir inoubliable.
J'aurais adoré voir l'exposition Savage Beauty au Met à New-York, il y a quatre ans. A l'époque, l'exposition avait atteint un record d'affluence.
Apparemment, (chose géniale pour nous!) l'exposition à Londres est plus enrichie que la rétrospective Américaine et je le comprends tout à fait. L'Angleterre rend hommage à l'enfant du pays.
La scénographie est époustouflante! Chaque salle à son propre univers et l'on plonge avec délice, émerveillement, stupeur et curiosité dans chacune d'elle. Miroirs vieillis, salle de bal aux boiseries aristocratiques, grotte recouverte d'ossement, œil de cyclope, et cabinet de curiosité réalisé tout en hauteur, Alexander Mc Queen nous fait rentrer dans son esthétique saisissante, parfois dérangeante mais très poétique où les robes, chapeaux et chaussures deviennent de véritables ouvres d'art.
Le moment le plus émouvant de l'exposition fut avec l'hologramme de Kate Moss, (présenté en 2006, en clou du défilé "Les veuves de Culloden"). Un moment en apesanteur, plein de grâce où je n'ai pu m'empêcher de laisser couler quelques larmes.
Et il y a pour clôturer l'exposition, cette citation d'Alexander Mc Queen, que j'aime particulièrement et qui résume parfaitement son univers unique:
"There is no way back for me now.
I'm going to take you on journeys you've never dreamed were possible"
Alexander Mc Queen
---
What a great exhibition!
Impossible for me to ignore the Alexander McQueen exhibition: Savage Beauty which is currently shown at the Victoria & Albert Musem in London.
For our last day of visit, Paolo accompanied me to see this exhibition on this designer dear to my heart.
Indeed, at 18, I joined in my second school in Paris, specializing in Couture, (I started my studies in Couture and Tailoring from the age of 16). My first internship was at Givenchy Paris where I was Petite Main for the Haute Couture Atelier Flou for the winter collection 2000. At the time, the artistic director of Givenchy was Alexander McQueen. I can still see him race down the main Givenchy staircase, laughing. Or the times where he came to see us in the Salon to check the dresses we were finishing sewing.
Alexander McQueen was a creative genius, a star and I am proud to have had the chance to work for him. These moments will remain unforgettable.
I would have loved to see Savage Beauty exhibit at the Met in New York, four years ago. At the time, the exhibition had reached a crown record.
Apparently (great thing for us!) the exhibition in London is more rich than the American retrospective and I totally understand. England pays tribute to his native son.
The set design is breathtaking! Each room as its own universe and we plunge with delight, wonder, amazement and curiosity in each. Aged mirrors, ballroom aristocratic woodwork, cave covered with bone, Cyclops eye and curiosity cabinet made up while Alexander Mc Queen makes us return to his striking aesthetics, sometimes disturbing but very poetic when dresses, hats shoes and become true works of art.
The most emotional moment of the show was with the hologram of Kate Moss, (presented in 2006, for the show "Widows of Culloden"). A beautiful moment of weightlessness, full of grace where I could not help but let a few tears flow.
And to close the exhibition, I found this quote from Alexander McQueen, that I particularly like and that perfectly summarizes its unique universe:
"There is no way back for me now.
I'm going to take you on journeys you've never dreamed were possible"
Alexander Mc Queen
Photos Credit: Victoria and Albert Museum, London
Alexander Mc Queen: Savage Beauty
Jusqu'au 2 Août 2015
Au Victoria & Albert Museum à Londres