25 avril 2015
Barrie, vous connaissez?
Je suis sûre que oui, mais de façon indirecte. On connait tous la Maison Chanel, que ce soit pour ses accessoires (quelle femme ne reverrait pas d'avoir un sac Chanel?!), ses tweeds… et aussi la qualité de sa maille.
On se rappelle sûrement de la collection Métier d'Art Chanel inspiré de l'Ecosse où la collection rendait hommage à la maille.
Et bien, il se trouve que c'est Barrie (usine Écossaise créé en 1903) qui est le fabriquant de cette maille d'exception.
D'ailleurs le groupe Chanel a acquis cette maison d'Art en 2012. Depuis deux saisons, Barrie développe aussi sa propre collection de maille.
J'ai eu la chance de découvrir la collection Printemps-Eté 2015 et je dois dire que j'aime beaucoup l'univers de Barrie qui allie le savoir-faire d'une maille d'exception (jamais je n'avais touché une maille aussi belle!) et la fraîcheur de la collection. Le cachemire s'amuse avec les motifs, les franges, les couleurs gaies et colorées et les petits boutons en porcelaine.
Barrie, do you know?
I'm sure yes but indirectly. We all know Chanel, whether for these accessories (which woman would not want to have a Chanel bag ?!), tweeds … and also for the quality of the knit.
We probably remember the Chanel Métiers d'Art collection inspired by Scotland where the collection paid homage to the knit.
Well, it turns out that it's Barrie (Scottish factory founded in 1903), which is the manufacturer of this exceptional knit.
Besides the Chanel group acquired the factory in 2012. Since two seasons, Barrie is also developing its own knitwear collection.
I had the chance to see the Spring-Summer 2015 and I must say I love Barrie universe that combines the expertise of an exceptional knit (I had never touched a knit so beautiful!) and the freshness of the collection. Cashmere plays with patterns, fringes, gay and colorful palette and small buttons in porcelain.
Photos showroom: moi-même
Photos Lily Collins pour Barrie Knitwear: Karl Lagerfeld
22 avril 2015
Quel beau temps! Faites que cela reste comme ça jusqu'à cet été! J'ai déjà commencé à prendre Oenobiol solaire et le jus de carotte à gogo tous les matins, histoire de prendre des couleurs tout en marchant dans Paris. C'est peut-être mon coté surfer girl qui veut ça…
Bref, en attendant le retour au source (Biarritz, nous voilà, J-10!), j'ai profité du beau soleil Parisien et du bassin de la Villette pour illustrer ce petit look girly qui m'évoque un peu le look des pom pom girls américaines.
Le sweat « Girls » me rappelle les séries américaines comme « Sauvé par le Gong » (d'ailleurs à ce propos, cette vidéo tournée récemment avec la plupart des acteurs est hilarante et géniale!!!) que je porte avec cette jupe rouge, déjà vu ici, mon sac blanc Zara et mes petites ballerines en python rouge.
What a beautiful weather! Hope it stays like that until this summer! I have already begun to take Oenobiol solar pills and carrot juice every morning, just to have colors while walking in Paris. This is perhaps my surfer girl side who wants that …
Well, until the return to the source (Biarritz, here we are, J-10!), I took advantage of the beautiful Parisian sun and La Villette to illustrate this little girly look that reminds me a bit the look of American's pom pom girls.
The sweat « Girls » remember me the American series like « Saved by the Bell » (oh, by the way, this video recently filmed with most of the actors is hilarious and awesome !!!) I wear with this red skirt, seen here, my white Zara bag and my little ballerina in red python.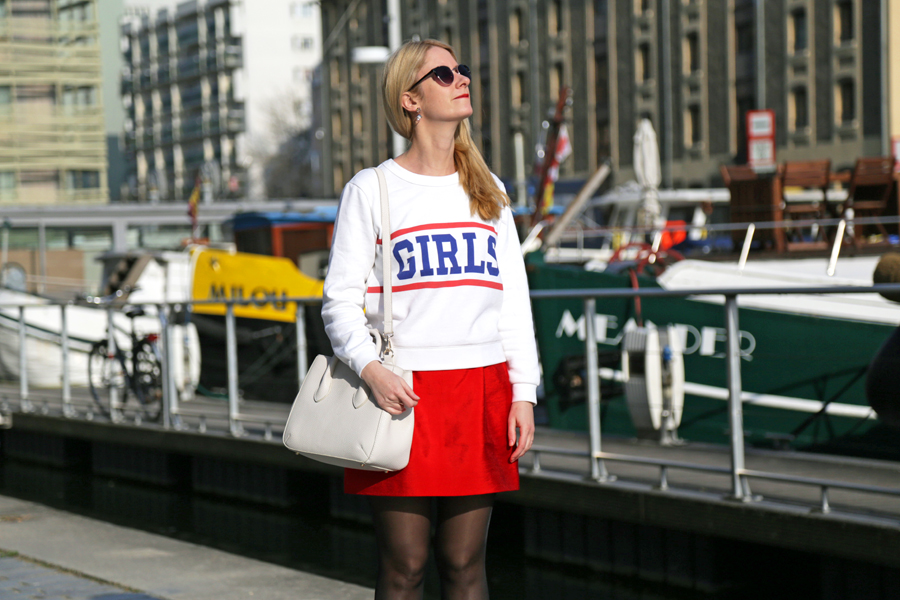 Photos: Franca

Sweat: Claudie Pierlot  –  Jupe/Skirt: H&M (actuellement en boutique) –  Sac/Bag: Zara  –  Ballerines/Ballerina: New Look (autre coloris, ici) –  Lunettes de soleil/Sunglasses: vintage