27 mars 2015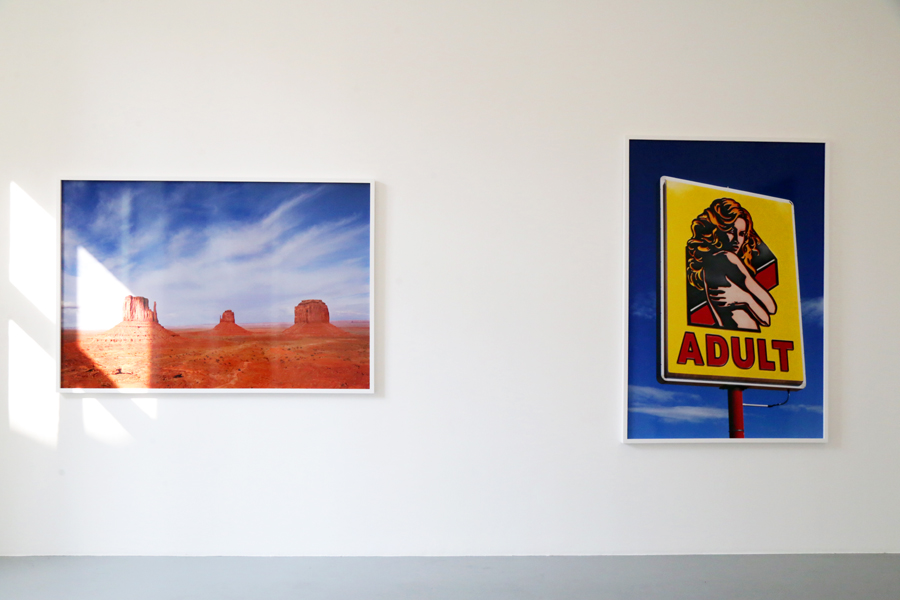 La galerie Perrotin présente une exposition photo appelée « The sacred and the profanes » réalisée par le photographe Terry Richardson.
Curieuse de voir les photos prises par Terry Richardson silhonnant le Grand Ouest Américain, je m'y suis rendue hier.
Terry Richardson, nous emmène dans l'Amérique puritaine. A travers ces photos, on sent la dualité qui existe au Etats-Unis entre la religion et l'industrie du sexe.
Plus qu'une énième série photographique entre péché et sainteté, j'ai été saisie par la beauté de quelques uns de ces clichés, notamment aux abords du Grand Canyon.
Car oui, même si l'on parle depuis quelques temps de Terry Richardson, en tant que « prédateur sexuel », je préfère ici mettre en avant ses talents de photographe et saluer la maîtrise de son art, lorsqu'il s'agit de photographier les paysages et les scènes de vie urbaines.
Je vous invite à lire la revue de presse de l'expo, très intéressante.
Perrotin gallery presents a photo exhibition called « The sacred and the profane » by photographer Terry Richardson.
Curious to see the photos taken by Terry Richardson travelling around the Western states of America, I went there yesterday.
Terry Richardson takes us into puritan America. Through these photos, we feel the duality that exists in the United States between religion and sex industry.
More than just another photographic series between sin and holiness, I was struck by the beauty of some of these pictures, especially at first the Grand Canyon.
Because yes, even though we talk for a while that Terry Richardson is a « sexual predator », I prefer here to highlight his photography skills and greet mastery of his art, when it comes to photographing landscapes and urban scenes of life.
I invite you to read the complete press review of the expo, very interesting.
Terry Richardson « The Sacred and the Profane »
Jusqu'au 11 Avril 2015
A la Galerie Perrotin
76, Rue de Turenne
75003 Paris
Photos by me :-)))
26 mars 2015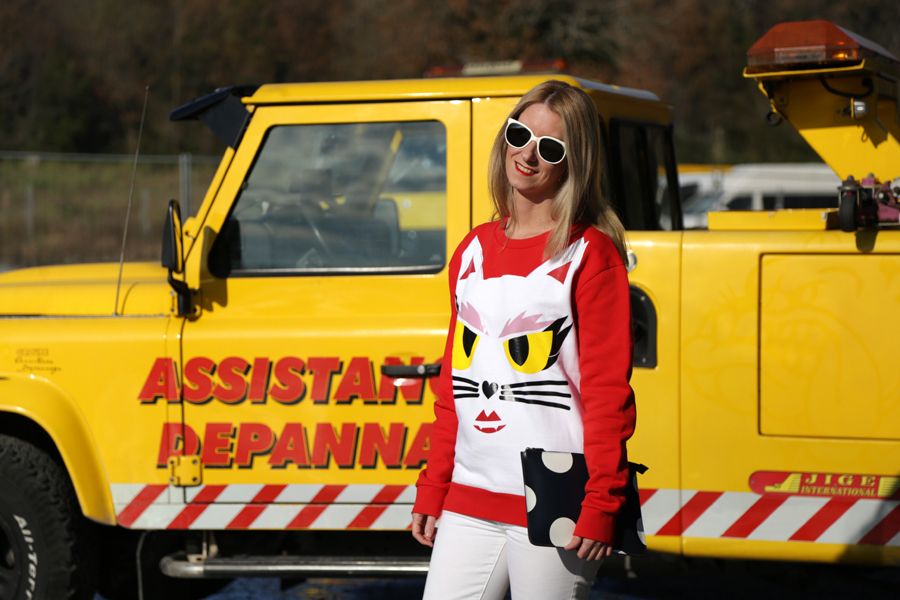 Me voici de retour à Paris après quelques jours passés à Marrakech, où j'ai notamment pris froid, pris le soleil et pris pleins de photos, quelques unes sont déjà sur Instagram 

Mais avant de commencer mes posts sur Marrakech, je vous propose cette série photos que j'adore et que je trouve géniale et drôle.
Un peu d'humour ne fait pas de mal et ce n'est pas Monsieur Lagerfeld qui dira le contraire.
Voici donc Choupette (la chatte de Karl Lagerfeld) illustrée telle un petit monstre espiègle sur le sweat que je porte et que j'ai associé tout simplement avec un jean blanc basique, des ballerines jaunes bouton d'or et ma pochette marine et blanche à pois.
Bonne journée à tous et à toutes

I'm back in Paris after a few days spent in Marrakech where I caught a cold, have a bit sunbathing and took lots of pictures, you can already see some on my Instagram

But before starting my posts on Marrakech, here is this photos serie that I love and find really great and funny.
A little humor does not hurt and it's not Mr. Lagerfeld who will say the opposite.
So, here is Choupette (Karl Lagerfeld's female cat) illustrated as a mischievous monster on the sweater I'm wearing and I simply associated with a basic white jeans, yellow buttercup ballerinas and my navy and white polka dot clutch.
Have a lovely day

Photos: Franca

Sweat: Karl Lagerfeld (en noir, ici et version T-shirt, ici) –  Jeans: 7 for all Man Kind  –  Ballerines/Ballerina: Lanvin  –  Pochette/Clutch: L.K Bennett