2 mars 2015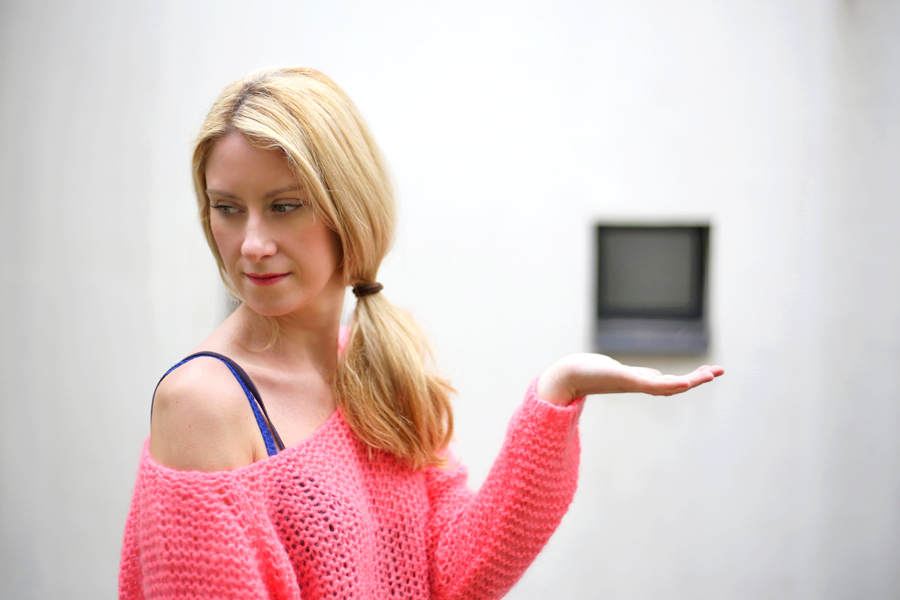 Question: Quoi faire quand il fait gris comme hier (à Paris)?
Porter un nuage de couleur! ;-)
Pour cette occasion, j'ai jeté mon dévolu sur ce pull rose bonbon, tout doux que j'adore de chez Essentiel Antwerp.
Associé à mon nouveau jean à la coupe absolument parfaite de chez & Other Stories et mes nouvelles ballerines rose, hyper confortables et très bien faites, trouvées chez New Look au prix imbattable de 9,99€.
Petit détail mais pas des moindre, j'ai même coordonné la couleur du soutien-gorge au blue jean :-)
A part ça, nous sommes lundi et la seule chose qui me motive en ce début de mois de Mars, hormis la fashion week Parisienne (auquel je ne pourrai pas assister parce que je travaille, bouuuh!), c'est ma prochaine petite escapade (et première) à Marrakech dans… 18 jours!!! Yay :-))))
Et vous, avez-vous commencé à réserver vos prochains petits week-end et/ou vacances?
Bon Lundi!
Question: What to do when it's gray as yesterday (in Paris)?
Wear a colored cloud! ;-)
For this occasion, I opted for a pink soft sweater I love from Essentiel Antwerp.
Associated with my new jeans perfectly cut from & Other Stories, and my new pink ballet shoes, comfortable and very well made, I found in New Look at the unbeatable price of 9.99 €.
Small detail but not least, I even color coordinated the bra to the blue jean:-)
Otherwise, it is Monday and the only thing that motivates me at the beginning of March, except Paris Fashion Week (which I will not be able to attend because I will work, bouuuh!), that's my next getaway (and first) in Marrakech in … 18 days !!! Yay:-))))
And you, have you start booking your next holidays?
Good Monday!
Photos: Paolo :-)
Pull/Jumper: Essentiel Antwerp (autre colori, ici) –  Jeans: & Other Stories  –  Ballerines/Ballerinas: New Look  –  Sac/Bag: Chanel  –  Boucles d'oreilles/Earrings: & Other Stories  –  Soutien-gorges/Bra: Agent Provocateur (similaire ici, ici et ici)  –  Top (dessous/underneath): Vanessa Bruno
25 février 2015
Me revoici aujourd'hui sur le blog après quelques jours d'absence… Et oui, le manque d'inspiration est arrivé sans crier gare :-)
Et je dois dire que j'ai eu un peu de mal à remonter même avec la Fashion de New-York.
C'est moi qui fait la difficile, où bien les défilés New-Yorkais n'étaient pas terrible cette saison?
N'empêche, on voit bien la différence entre les designers masculins qui aiment les femmes et ceux qui ne nous aiment pas.
Bref, dans tout ça, j'ai quand même fait ma petite sélection des défilés New-Yorkais Hiver 2015 que je préfére:
Michael Kors:
Parce qu'il sait rendre les femmes belles et désirables avec des pièces empruntées au vestiaire masculin.
I am back on the blog after a few days away … And, yes lack of inspiration came without warning :-)
And I must say that I had a little trouble back even with the New York Fashion Week.
It is me who set the bar high or the runways in New Yorkers were not that good, this season?
Still, we can see the difference between male designers who love women and those who doesn't like us.
Well, in all this, I still made my small selection of New York fashion show for Fall 2015:
Michael Kors:
Because he knows how to make us beautiful and desirable women with pieces borrow from menswear.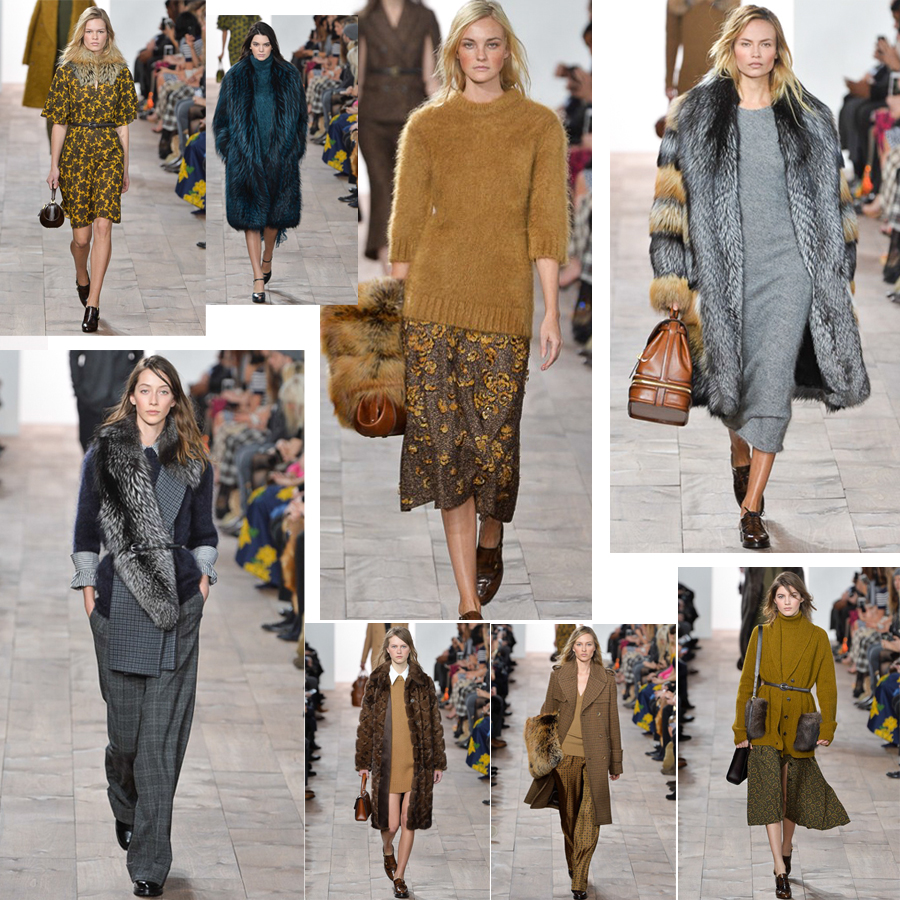 J. Crew:
Parce que je voudrai bien porter TOUT DE SUITE ces quelques looks trèèès désirables! J'exagère? Nan, pas du tout ;-)
Because I would wear IMMEDIATELY those few looks sooooo desirable! I exaggerate? Nope, not at all;-)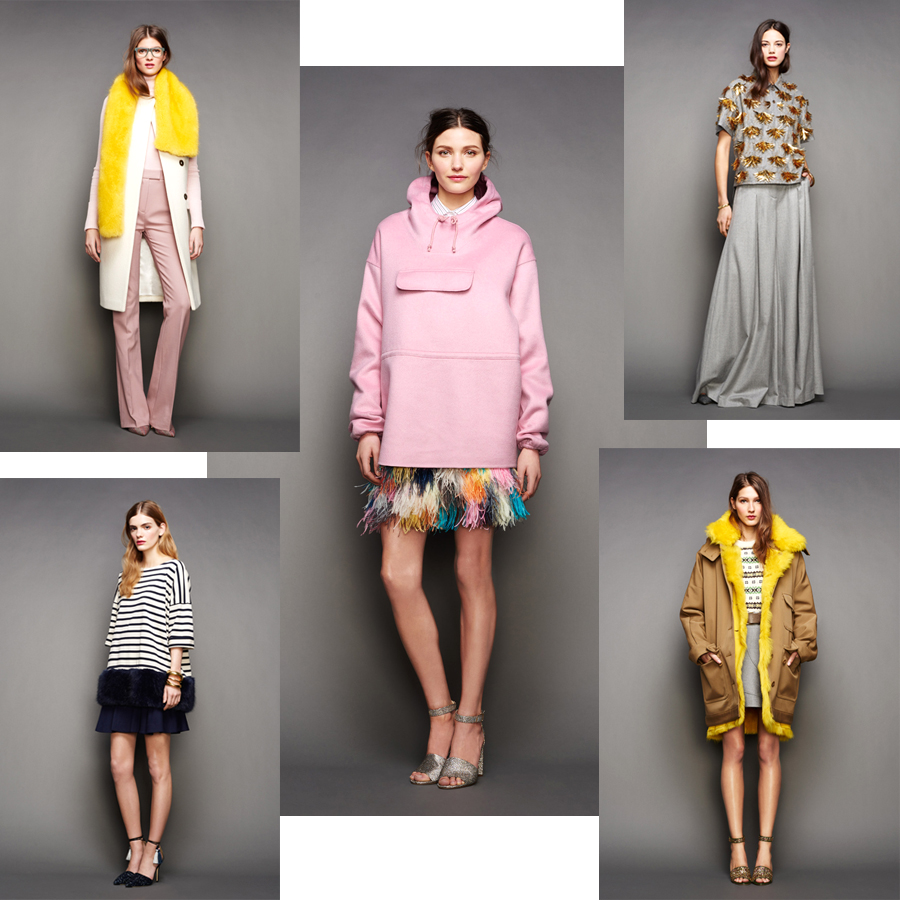 Prabal Gurung:
De la fourrure, du blanc, du gris, de l'ivoire, des robes en soie façon nuisette sexy et de grosses mailles: Hummm, imaginons que je sois ( que l'on soit toute) Madame Rockfeller***, c'est tout ce dont j'aurais envie l'hiver prochain!
*** Oui, parce que nous devons aussi avoir la voiture avec chauffeur pour aller avec ces tenues;-)
Fur, white, gray, ivory, silk dresses and large and cosy knitwear: Hmmm, imagine that I am (that one is any) Mrs Rockefeller *** is everything I would want next winter!
***Yes, cause we need the driver and the car to match with those outfits ;-)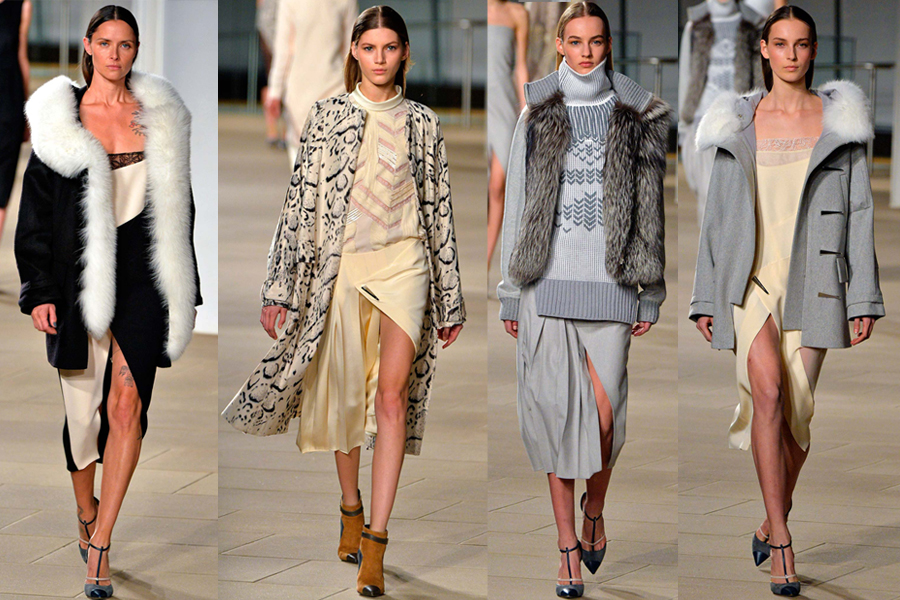 Photos: Style.com
La suite à Londres bientôt…
Bon Mercredi! ;-)