28 janvier 2015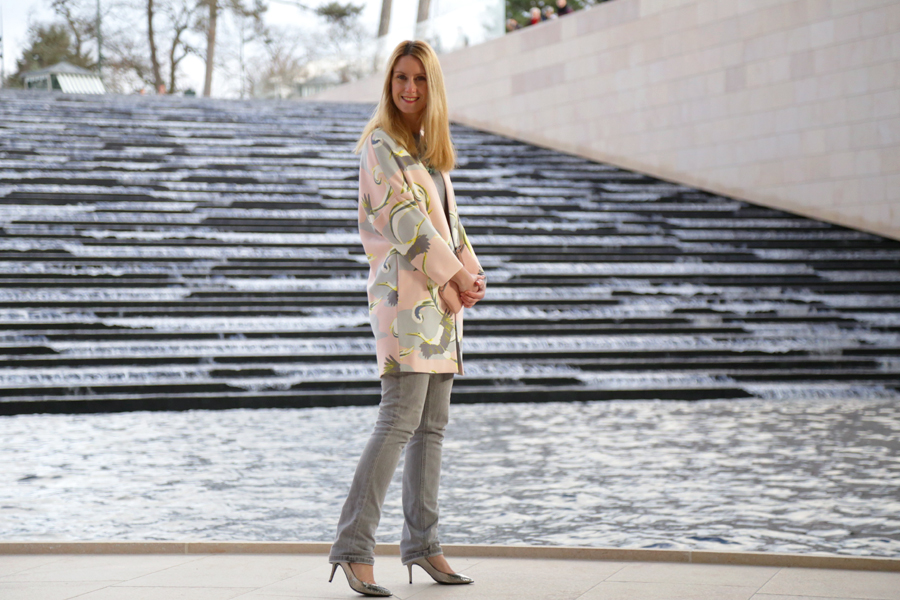 J'écris ce post du fond de mon lit. Ouais, je suis balade malade :-/
Ça a été peut être le froid de ces maudites climatisations… Quelqu'un peut m'expliquer cette bizarre idée de mettre la clim en plein Hiver,
dans certains bureaux et certains showrooms?
Peut-être que je vais me remettre d'aplomb avec les nouvelles collections Printemps/Été qui arrivent en boutiques.
A la fois gaies et colorées, elles me donnent déjà envie de Primavera (comme disent les italiens ; ).
Par exemple, ce manteau de chez H&M et son imprimé cigogne. Un peu oversize, j'ai bien aimé l'idée et la douceur des couleurs, rose et gris.
Certes, ce manteau est beaucoup moins chaud qu'un vrai manteau d'hiver (souvent noir, d'ailleurs).
Mais au moins, je peux le porter avec mon pull et mon jean gris. Et avec des escarpins argentés achetés en soldes.
Eh eh! C'était pas la climatisation. C'était cette séance photo à -1° à me faire tomber malade, alors !
Ce shooting à été fait à la 
Fondation Louis Vuitton
 (pensez à réserver vos billets par Internet pour éviter les files d'attente).
I write this post from the bottom of my bed. Yeah, I'm sick : – /
Maybe it was the cold of the damn air conditioning… Can someone explain this weird idea to put the AC in Winter
in some offices and some showrooms?
Maybe I'll get better with the new Spring / Summer collections arriving in stores.
Both bright and colorful, they already give me the urge of Primavera (as Italians say ;).
For example, this coat from H & M and its stork pattern. Slightly oversize, I liked the idea and the soft colors, pink and grey.
Admittedly, this coat is less warm than a real winter coat (which will be usually black).
But at least I can wear it with my sweater and my grey jeans. And with silver shoes purchased in sales.
Eh eh! It was not the air conditioning. It was this photo shoot at -1 ° that make me get sick, then!
The shooting has been done at the Fondation Louis Vuitton (remember to book your tickets through Internet to avoid queues).
Photos: Paolo :-)
Manteau/Coat: H&M  –  Pull/Jumper: Zara  –  Jeans: LTB  –  Escarpins/Stilettos: Mellow Yellow  –  Pochette/Clutch: MOA
25 janvier 2015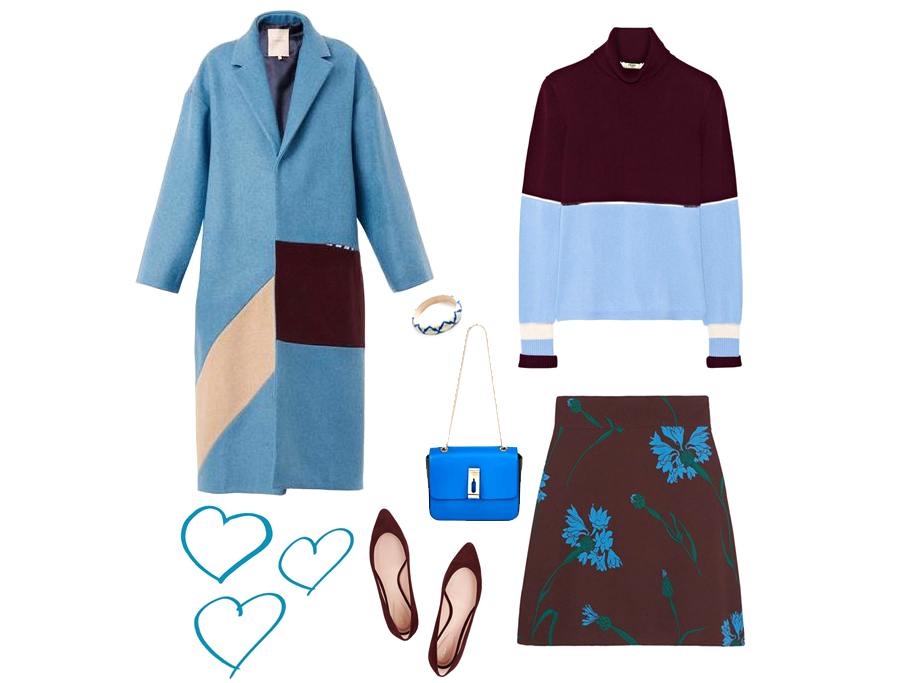 Voilà comment en plusieurs soirs, en surfant sur les sites de ventes en ligne « Luxe », je me suis amusée à créer une « tenue Luxe et Créateur » de mes rêves avec les articles actuellement en soldes. C'est simple, je voudrai tout! La carte de crédit, elle, dit noooon!
Here's how in few evenings, surfing online, I had fun creating a dream oufit sales wish list with the items currently in sales. It's simple, I want everything! Credit card, says noooo!
Manteau/Coat: Roksanda  –  Pull/Jumper: Fendi  –  Jupe/Skirt: Miu Miu  –  Sac/Bag: Anya Hindmarch –  Ballerines/Ballerina: Chloé  –  Bracelet/Bangle: Isabel Marant