L'esprit rétro chic de Palm Spring ensoleille les jerseys zig-zag Missoni et les figures géométriques, all-over ou placés. On utilise un kaléidoscope de couleurs lumineuses et radieuses: piscine, soleil, palmier, et nude pour rappeler qu'il faut bronzer sans ce protéger. C'est très 70 et un brin show off. 
Je ne sais pas vous, mais moi je plonge dans l'Eté avec plaisir! (oui, nous sommes déjà en Septembre, c'est la rentrée et ça me déprime… alors je fais durer les vacances !)
The Palm Spring retro chic spirit shine on Missoni zig-zag jerseys and geometrics prints all-over or placed. We use a kaleidoscope of luminous and vibrants colors: swimming pool, sun, palm and nude sunbathing to remember to not protect your skin. It is 70's and a little show off. 
I do not know you, but I dive into summer with pleasure! (yes, we are already in September and it depresses me … so I prolong holidays!)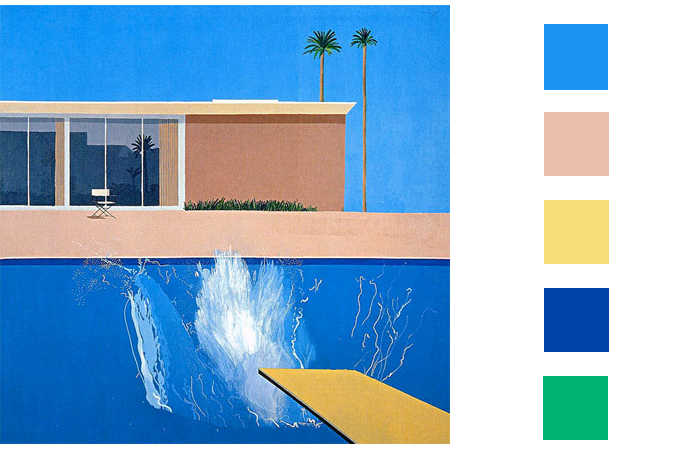 Painting from David Hockney: A bigger splash, 1967, Tate Collection, London
Color palette: beaauuu.com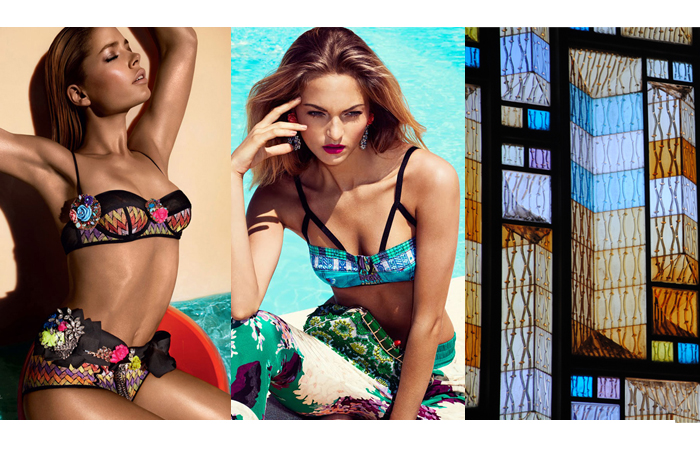 Vogue China June 2012 with Doutzen Kroes by Sølve Sundsbø – Elle Sweden July 2012 by Jimmy Backius – Photo of Mexico City church vitral by beaauuu.com