La semaine de la mode à Paris, c'est fini! Pour celles et ceux qui ont raté les défilés et que ça intéresse voici quelque uns des meilleurs selon moi (tout est subjectif):
Kenzo: j'aime beaucoup leur collection facile à porter, un peu sport, avec des mélanges de matières et d'imprimés qu'on voudrai porter tout de suite!
Balmain: toujours très chic et moins « soir ». La collection se développe légèrement pour le jour (dixit Olivier Rousteing).
Cela donne des jupes à volants démentes, des sweats sporty inspirés du Baseball accessoirisé par des ceintures bijoux et des gourmettes XXL aux poignets. Le vichy noir et blanc, le pied de poule bleu et rose layette, le cuir noir ou le jean version deluxe, rien n'est trop bling beau pour la femme Balmain.
Moi j'adore, mais de la à porter, mmmhh, pas sur!
Par contre, je suis très curieuse de voir comment Zara, H&M et les autres s'inspireront de cette collection pour la rentrée plus streetwear… à suivre!
Vionnet: les plis iconiques de Madeleine Vionnet ont inspiré plus d'un créateur (Alaïa notamment). Pour cette collection Goga Ashkenazi (la directrice artistique) a joué avec la popeline de coton habituellement utilisé chez les Hommes et un voile de tulle dans un dégradé de bleu.
Le résultat est surprenant, Quelques silhouettes un brin japonisantes, cela reste très féminin, chic et je dirai même facile à porter.
The fashion week in Paris is over! If you missed the shows and are interested in, here's some of the best (everything is subjective).

Kenzo: I loved the collection. It's easy to wear, sporty, with a mix of fabrics and prints and we would like to wear it immediately!

Balmain: always chic and less  » night. » The collection grows slightly for the day (according to Olivier Rousteing).
This gives ruffled skirts, sporty sweaters inspired by the Baseball accessorized with jewelry belts and XXL wrists bracelets. Black and white vichy print, « pied de poule » blue and baby pink , black leather or jeans deluxe version, nothing is too bling  beautiful for Balmain's women.
I love it, but to wear, mmmhh, not sure!
But I will be very curious to see how Zara, H&M and others will be « inspired » by this collection to convert more into streetwear… to follow!

Vionnet: best known for her iconic « plissé » Madeleine Vionnet inspired a lot of creative designer (including Alaïa). For this collection Goga Ashkenazi (the artistic director) played with cotton poplin usually used for men's wear and veil of tulle in shades of delicate blue.
The result is surprising, few silhouettes remind me the shape of Japanese kimono, it's still very feminine, chic and I would even say that it's easy to wear.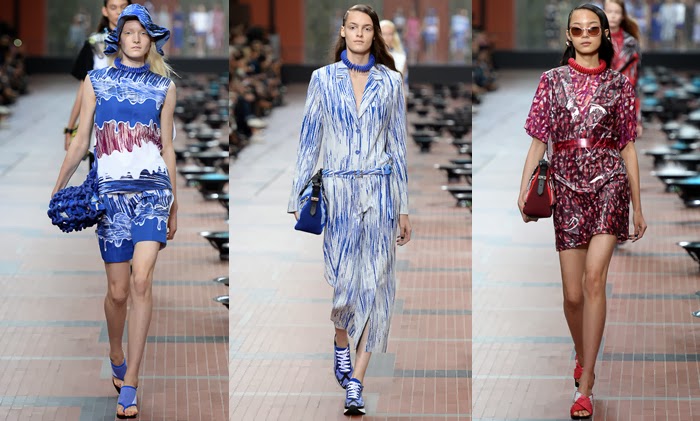 Kenzo Spring/Summer 2013   Models: Maya Salomon – Kremi Otashliyska – Xiao Wen Ju   Credit photos: Style.com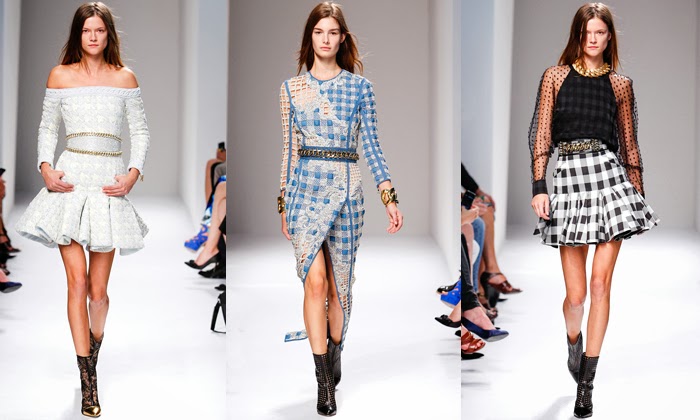 Balmain Spring/Summer 2013   Models: Kasia Struss – Ophélie Guillermand – Kasia Struss   Credit photos: Style.com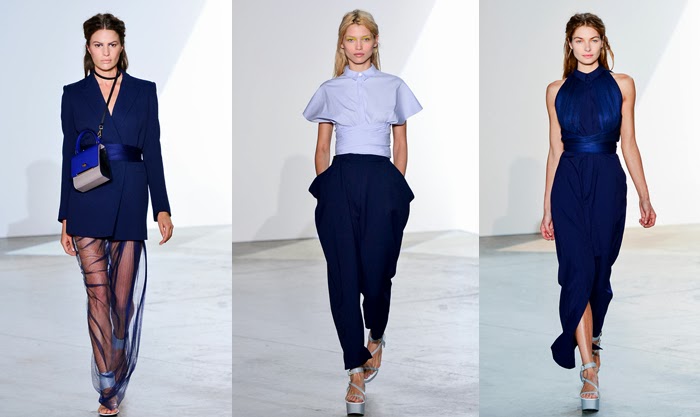 Vionnet Spring/Summer 2013   Models: Cameron Russel – Hana Jirickova – Jessica Hart   Credit photos: Style.com