Il fallait bien une suite au premier post des défilés Parisiens qui m'ont le plus marqués. Il y a tellement de marques, maisons, créateurs que parler seulement de trois me paraissait impossible.
Dior: Les couleurs délicates sont caressées par une touche d'orange, des colliers « algue » poussent comme la glycine autour du cou, les jupes plissées aériennes révèlent parfois des découpes de hanche ultra graphique.
Il y a quelque chose de moderne, frais, léger et gai qui se dégage de la première partie de cette collection et c'est tout ce que j'aime.Valentino: l'inspiration de ce défilé est un croisement entre des robes « babouscka », la Grèce antique avec le film « Medea » de Pier Paolo Posolini et l'Egypte avec les scarabées dorés posés sur les sandales et repris partout dans la collection.
Cela donne des robes aux dentelles et broderies hors du temps (tout en étant très actuelle). Je serai même la première à vouloir les porter tout de suite!Lanvin: ça brille, ça pétille comme les bulles de champagne!!! Du lurex, du lamé, du brocard, du satin…
Non, la vie n'est pas une discothèque et ce n'est pas le retour des années 70.
Cette collection énergisante et féminine est basée sur la recherche des matières brillantes pour nous rendre toujours plus belle, désirable et enfin pour nous faire rêver encore et toujours plus.
Here is the second part of my previous post for Paris Fashion Week Spring Summer 2014 collections witch I liked the most.

Dior : The delicate colors are caressed by a touch of orange , « seaweed » necklaces grow like wisteria around the neck, airy pleated skirts sometimes reveals hips with cuts ultra graphic.
There was something modern, fresh, light and gay that emerges from the first part of this collection and this is what I like.

Valentino: the inspiration of this show is a mix between  » babouscka  » dresses, ancient Greece with the movie  » Medea  » by Pier Paolo Posolini and Egypt with golden scarabs placed on sandals and again throughout the collections.
This gives dresses lace and embroidery timeless ( yet very wearable). I'll be the first to want to wear them now!

Lanvin : it shines, it sparkles like champagne bubbles ! Lurex, lamé, brocade, satin…
No, life is not a nightclub and we're not returning into the 70s.
This energizing and feminine collection is based on the research of shiny materials to make us ever more beautiful, desirable, and finally to make us dream again and ever.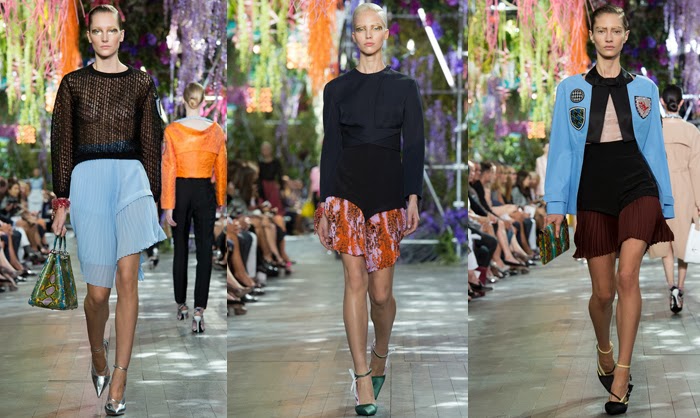 Dior SS 2014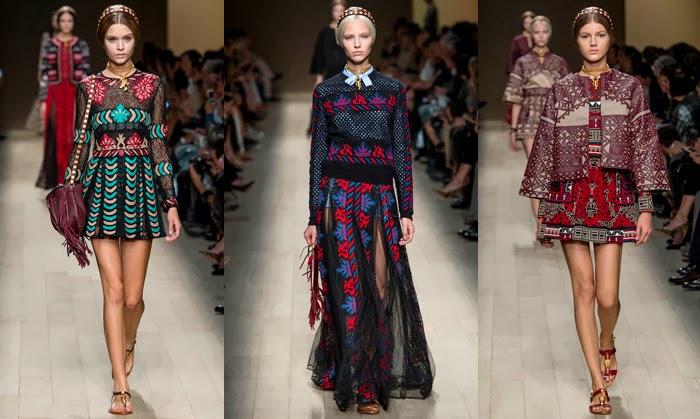 Valentino SS 2014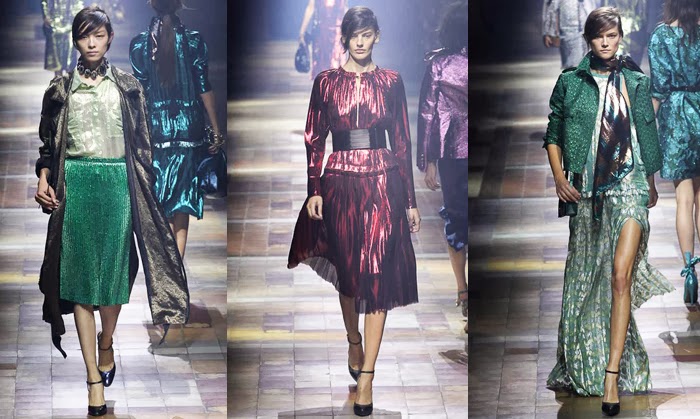 Lanvin SS 2014